Home > India > Movies > Report


Discuss |
Email |
Print | Get latest news on your desktop

'Heaven On Earth is not a negative story'

Arthur J Pais in Toronto | September 16, 2008 11:26 IST
Last Updated: September 16, 2008 12:37 IST



Deepa Mehta certainly does not want her effigies burned by the Punjabis, especially in Canada [Images]. She says her new film Heaven on Earth, which follows the abused life of a newlywed Indian bride Chand (Preity Zinta) in Canada, is specific to a community but it has universal appeal.

"Abuse of women is not confined to just one community or a family," she says. "And the film also makes clear that spousal abuse does not have to be physical. Verbal abuse is also terrifying and demeaning and it reduces the status of any woman in a relationship."

She set the film in the Punjabi community for two reasons, she says, "I was born in a Punjabi family in Amritsar [Images], and I know the Punjabi language. I wanted to do film set in the community I know very well. It is easier to make an authentic film if you belong to the milieu and are familiar with it," she said at the recently-concluded Toronto International Film Festival, where the film got quite popular.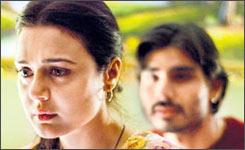 But she also said the impetus for the film came from Mona Gill, who had met her at a film event in Edmonton over three years ago. Gill obviously knew of Mehta and the films she had made, including Fire and Water, which focused on the inequities women faced in India.
"Mona was an abused woman," said Mehta, whose marriage to filmmaker Paul Saltzman ended in a bitter divorce about a decade ago. "But she fought her way through her immediate family as well as the larger society. She walked out of the abusive marriage after her daughter was born. She did not listen to people, who were keen on keeping up the so-called family honour.
"Many women, especially those of South Asian origin, do not go around publicising their bad marriages, even after ending them," Mehta said. But Mona Gill was outspoken, and became a media celebrity across Canada. The National Board of Canada had recently made a documentary on Gill. "All my life in Canada [her home for more than 20 years] I have been aware of the abused women all around me," Mehta continued.
She also told a film fan, who asked her about making the characters in Heaven on Earth Punjabi that she was led into making the film following her documentary, Let's Talk About It, made three years ago. The documentary focused on women from three parts of the world, who had come to Canada for a better life. It told the story of Nigerian-born Nneka, whose husband's final attack was so brutal -- he tried to kill the 42 year-old lawyer by throwing her face down on the sofa so she could not breathe. It was the last time he would ever touch her.
There was also the story of Xiomara, from El Salvador, married and pregnant at 16, a scared teenager who would hide from her husband in a game of cat and mouse that would end after severe beating. His punches and kicks caused her to miscarry her first child.
Then there was Amandeep, whose arranged marriage in India, did not make her impotent in Canada. She found courage to seek help after her husband's rage became physical and a source of escalating anger in her son.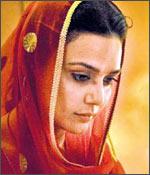 Mehta made time to study the impact of domestic violence on children, especially in the case of Amandeep. "Children are our greatest teachers," she had said at a press conference for the film, "and I hope this film helps to fuel meaningful action and commitment to stop the cycle of family abuse and give voice to every child and parent living in the unspoken despair of an abusive home."
The documentary played an important role in nudging her to make Heaven on Earth. She also said that Heaven on Earth is not just about abused women. "It is also about immigration, isolation and the power of imagination in dealing with personal tragedies," she said. In the second half of the film, a cobra appears in the guise of Chand's husband and suddenly the husband seems to have become a loving and better person. Chand wonders whether she is facing reality or hallucinating.
"Most of us who came to Canada liked to believe that migration of women to this country affects their status, but it is not always so," she says. "Chand's life and her struggles mirror the life of many women belonging not only Indian but many communities including people from Europe."
In India, Mehta said, family members can intervene to check the abuse. "But in their adopted land, many women are without a larger family network that has members, who can support them against abuse. Often they are surrounded by the husband's families that are part of the abuse machinery. They [the abused women] take time to make friends and in many cases they are unable to make friends because their husbands and his family watches these women all the time."
Her film is not a negative story, she asserted. "I think women can at least look at the means they can adopt to navigate their lives with dignity," she said.
Email |
Print | Get latest news on your desktop