Home > India > Movies > Bollywood News


Discuss |
Email |
Print | Get latest news on your desktop

'I want to act with Rajnikanth'

October 23, 2008 10:06 IST


| | |
| --- | --- |
| Swati | |
| | |
| | |
| | |
| | |
| | |
| | |
The star of Telugu hit, Ashta Chamma, Swati had an engaging chat with Rediff readers on Wednesday. The actress, who has also starred in the Tamil blockbuster Subramaniapuram, talked about herself, and her movies, and dispelled all marriage rumours.
For those who missed chatting with the actress, here's the transcript.
Swati says, Hey everybody wassup!
---
prabhu rajK asked, hi swati.you hv done a gr8 job in subramaniapuram.
Swati answers, Thanks Prabhu.[Smiles] 
---
Rambahesh asked, What do you prefer in films -- Message or entertainment?
Swati answers, A little bit of both.
---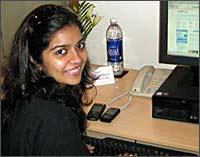 sai_krishna asked, Hi Swathy, This is Sai from Bangalore. What is your next movie? What are your current movies in Tamil/Telugu? You are excellent in expressions and all those are unique and original as any indian(probably south indian) girl. Keep Going..
Swati answers, I am still deciding on what to do next. Will keep you posted. Thank you for your encourangement.
---
nami asked, Hi Swati...congratulations !!!!Do you have more projects in Tamil and who are you favourite actor and actress ? How did you come into the industry. My best wishes for your future projects.
Swati answers, xxxx
---
nami asked, Hi Swati...congratulations !!!!Do you have more projects in Tamil and who are you favourite actor and actress ? How did you come into the industry. My best wishes for your future projects.
Swati answers, Too many of them to name just one. I came through television. Thank you for your wishes.
---
sawtii asked, Hi! In real life, will you love a guy like Jai in Subramanyapuram?
Swati answers, [Laughs]. Depends.
---
anjaneya asked, watsup reddy? recognize? this is shiroor...hahaha...i have to log on to public portal to chat with you
Swati answers, Aren't you supposed to be on leave Anjaneya? You haven't grown up from the second grade.
---
padmini asked, Hello Swathi! Loved your role in Ashta Chemma.. But please do different kinds of roles instead of getting typecast in 'bubbly girl-next-door' roles.. All the best for your future. Will be following your acting career with interest.
Swati answers, Hey Padmini, thank you so much. I surely will do different roles provided I am offered some.
---
ksai asked, Hi Swati, this is Sai. My question is that do you think looks do matter in the Telugu film industry? I haven't seen AC but looking at your performance in AMAV I must say, you have a long future in the movie industry. Good Luck!
Swati answers, You should watch AC, Sai you will like it.
---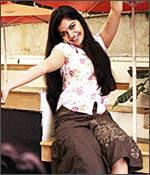 nirmal asked, hiiiiiiiiiiiiiiiii this is nirmal. i like ur smile realy its a veryyyyyyyyyyyyyyyy cute.
Swati answers, Thanks Nirmal.
---
Rocky asked, Hi, Are u a telugu?
Swati answers, Rocky don't you know that already? Of course, I am.
---
msrinath asked, hi swati this i srinath from Vizag and saw ur astha.. and subramai.. movies.. u look very cute in that.. infact u have displayed a sense of maturity in the song.. kangal Irandal.. its amazing expressions that you have given.. congrats !
Swati answers, Hi Srinath. I studied in Vizag too. Thanks so much.
---
bnetra asked, I liked your movie AC. What is the reason being this title?
Swati answers, Its symbolic. The game Ashta Chamma is symbolic with life. Have you ever played this game?
---
Sreek asked, I liked ur performance in AC, Why did you do an off beat movie i Tamil ?. It might be a learning experience but it doesn't help your future.. Do AC kind of movies
Swati answers, Hey Sreek. A learning experience is always helpful. besides I want to balance my career with both kinds of films.
---
murthy asked, u'r action in AADUVARI MATALAKU.......SUPEREB...
Swati answers, Murthy you still remember that film. Thank you so much.
---
getsunil_6 asked, Hi Swathi, I have one question. What is u r strategy in keeping your place intact in this competitive movie industry? R u ready for any kind of glamour roles, if situation demands?
Swati answers, My aim is to do good work. I dont have a strategy as such.
---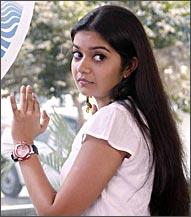 shivaji asked, Hi swathi, i heard u r married but u hav got good career in tollywood better you continue movies
Swati answers, Even I heard that I am married. BUT I am not. Its a silly rumour. Don't worry I am concentrating on films.
---
shalu asked, hi yella unnavu,,,u r one of the best face of this generation.....u really represent us ....
Swati answers, Wow! Thank you, Shalu.
---
Harip asked, Hi How r u? What level of education did u complete? I wish to see you in art movie like "SitaRamaya Gari Manavaralu"
Swati answers, I finished my graduation in Bio Technology. I wish they make more movies like Sitaramaya Gari Manavaralu. Its not an art film, its main stream.
---
suresh asked, Ram babu.. bababbuu plss baboo .. annattu ledu.. This is the best dialogue of this year..after pokiri dialogues i remember this dialog for a long time to come.expecting more stuff frm u swathi..
Swati answers, Suresh, thank you so much.
---
Krishna asked, Hey.. Where do you see your career going after these "Next door girl" kinda roles ??
Swati answers, Well! I hope it goes up.
---
vikas asked, u r best actress in recent times
Swati answers, Thanks Vikas.
---
keshu asked, how familiar are u with tamil?
Swati answers, Keshu, I can read and write Tamil but I cant speak it very well.
---
shravankumar asked, ok, nenu waiting barista (haaahaaa)
Swati answers, [Laughs].
---
Chiru asked, You did a fabulous job dubbing for Illeana in Jalsa....are you considering dubbing in more films?
Swati answers, Chiru, thanks for noticing. But I doubt if I will dub in more films. I prefer dubbing for myself.
---
fokatchand asked, where is my message gone?
Swati answers, I don't know. [Laughs].
---
prguy asked, Diversity seems to be your stand-out quality... From S'puram to Ashta Chamma, the leap seems to be quite significant.. Did you as an actress feel the need to "Step on the Gas"?
Swati answers, Step on the gas as in fast forward? I am glad you noticed my efforts, it was intentional and I hope to do more different cinema.
---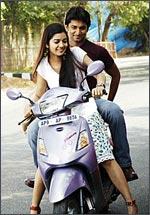 keshu asked, how was your exp acting like 80's girl in subramanyapuram?
Swati answers, It was very difficult but that's what made it more exciting and now after the success its more satisfying.
---
Sanath asked, Hi Swathi,when i saw your first show in television u said u r bit nervous .... How did u feel when stood before the camera for the first time
Swati answers, The camera never made me nervous. I was more worried that i would say something silly.
---
SHIVVAJI asked, I think urs is the most beautifull face tollywood industry has seen, ur facial expressions are awsome in "KANGAL IRANDAAL" song ,Please get subraniyapuram dubbed into TELUGU so that we watch it for you ==Ur DIE HARD FAN
Swati answers, Hey Shivaji, that's an interesting idea. I think Tamil makers are planning to do that so let's just wait and see.
---
Rasul12 asked, Can you share any moment from the movie Subramanyapuram!! Which is your favourate scene?
Swati answers, There is one favourite shot of mine in the pathos song where I am sitting on the stairs and by the time the camera pans, a tear drops. I thought that it was well shot.
---
naveen asked, will i ever get a reply???? this chat isnt user friendly...atleast Swati should be friendly! :)
Swati answers, Hey Naveen. What's the question?
---
csr250 asked, what did u find challenging...anchoring or acting in movies?
Swati answers, Both have their pros and cons and I enjoy doing both.
---
Vindhya asked, Hey Swathi you have a very sweet voice ...ahy don't you sing a song for us in movies ??
Swati answers, Vindhyaaaaaaaa, I don't see that happening. [Laughs].
---
chickoo asked, u r only busy answering your local fans and friends,u still did not answer my question
Swati answers, Chickoo, where is your question?
---
aavakaya asked, when asta chamma is going to release?(in mumbai)
Swati answers, It will.
---
chickoo asked, any plans of coming to hindi movies and make ur presence felt nationally
Swati answers, It depends on the opportunities I get. If I get it I will.
---
ak asked, Swati, what u felt when director told u to PROPOSE VeNKI
Swati answers, I did not feel anything. I just acted it.
---
ps asked, hi swathi, personal question , is it true about you and jai ? i read it in a magazine
Swati answers, No, its a rumour.
---
ramu asked, Are you in love? otherwise i dont think you can handle such romantic comedy that well in asta chemma?
Swati answers, [Laughs]. Ramu that's what acting is all about. I will take that as a compliment.
---
keshu asked, Swati,its too much compititive environment,where one cannot be choicy,whats ur say?
Swati answers, I can always be choosy and I am.
---
prad asked, Hey Swati, u like recognizing you as COLORS Swati or Herione Swati?
Swati answers, Just Swati.
---
maruthi asked, swathi please wish me hi once please
Swati answers, Hi Maruthi.
---
chill asked, what do u consider as your greatest strength & weakness?
Swati answers, My family is my strength and also my weakness.
---
mallik asked,  you made all RAMBABUs to think to change their names
Swati answers, [Laughs]. I was just acting, Mallik.
---
superhero asked, superhero says, hey please reply na swati i mdying for one reply... please
Swati answers, Superhero, please don't die. [Laughs].
---
srija asked, Till today in rediff chat like this I never got a reply lets c atleast u will reply r not
Swati answers, Srijaaaaaaaaa, hi.
---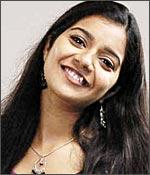 Ram@Denmark asked, Hi, U r doing very less films a year, Hope we will see more films a year from U..OK?
Swati answers, I have to be choosy, Ram. Better to do few good films, better to pick quality over quantity. I hope to do more films.
---
paddy asked, hi swathi, my son who is 3 years old is fond of kangal erandal song from subramanyapuram. he recognise you always. all the best in your career
Swati answers, Paddy give my love to him. Thanks for your wishes.
---
Raki asked, Hey Swati I haven't got any reply so far...u seem to neglect some of our questions..
Swati answers, There are so many questions coming in Raki. I am trying to answer as many as I can.
---
Anand asked, After 10 years from now, what you would like to be?
Swati answers, Ten years wiser.
---
Aruna asked, hey swati , mhow do u choose ur movies ?? based on the story , director , or wat else ?? by the way nice acting in subramanipuram
Swati answers, Its a combination of the script, director and my role. The team has to be good.
---
prm_murthy@rediffmail.com asked, swati how did u feel this movements as a celebrity
Swati answers, Its a combination of nice and scary.
---
harishkumar asked, Hi swati What is your dream role?
Swati answers, Every role I do is my dream role. Itherwise I won't do it.
---
Likith asked, swathi ppl still recognize u as "colors swathi" how do u feel?
Swati answers, It feels great but please don't call me colors Swati. I am just Swati.
---
Raki asked, Swati,u look cute and very natural at emotions.Did u take any acting training course before ?
Swati answers, Thanks so much but I did not take any acting training.
---
swati fan association asked, you are the best actress, best anchor .. in telugu industry ...I am a big big big fan of you ... please continue the good work.
Swati answers, Oooooffffffffffoooooo! thanks.
---
k2 asked, my name is rambabu. dont you feel need to say sorry to all the people with name rambabu ?
Swati answers, Hey Rambabu, I was only acting and delivering the lines given to me. No offence meant.
---
Krish12 asked, Swati ..U stil look as you looked in colors..whats the secret
Swati answers, I have no clue. [Laughs].
---
santoshikrishna asked, I want to see you acting in a ramgopalvarma film or puri jaganath film, any plans for that in near future?????
Swati answers, That RGV has to offer me. If offered then maybe. Like wise to Puri.
---
kalyanam_d asked, Hi swati How are you? My son is 10 months old. Even at mid night if he cries we are putting the Kangal erandal songs to stop his crying. So even ten months baby resogognises you . Thanks and all the best
Swati answers, How sweet. Thank you so much.
---
vixx asked, why dont u like to be called colors swathi?? thats how u got fame right?
Swati answers, I am grateful to the show but the name of the show is Colors not mine.
---
Nafees asked, Hi Swati, do you want to work with Rajnikanth [Images]???
Swati answers, Yes.
---
jinxu asked, Hi Swati - You are South India's Madhuri Dixit [Images] with expressive eyes -- Do you think you have the potential to be no.1
Swati answers, Happy to be compared with Madhuri but I dont believe in numbers.
---
santoshikrishna asked, F-R-I-E-N-D-S LETS ALL DEMAND SWATI TO ANSWER IN TELUGU, ITS OUR LANGUAGE, LETS GIVE SOME WEIGHT IN EVERY ACTION WE DO.
Swati answers, Hey Santosh, kopam vochinda? I want everyone to understand lo typing anmata ardham chesko.
---
Akhilyadav asked, TELL ME YOUR DATE OF BIRTH
Swati answers, April 19.
---
coloursvishnu asked, Who is your role model in acting
Swati answers, So many of my seniors. I pick one quality from each. Can't name just one person.
---
Swati says, Hey guys, its really nice being here and answering your questions. I know I couldn't answer all of your questions but time was limited. Thank you for all your support and encouragement. Bye and take care.
Email |
Print | Get latest news on your desktop