Home > India > Movies > Report


Discuss |
Email |
Print | Get latest news on your desktop

Yuvvraaj is a pauper in North America

Arthur J Pais | November 25, 2008 14:37 IST
Last Updated: November 25, 2008 15:46 IST


| | |
| --- | --- |
| A scene from Yuvvraaj. | |
| | |
| | |
| | |
| | |
| | |
| | |
Subhash Ghai's bad luck continued in the lucrative North American territory where his Yuvvraaj [Images] grossed a meager $264,000 on 77 screens in three days. Most Hindi language films plummet in the second week by about 50 percent.
The expensive film shot extensively in Austria was No 22 on the box-office chart but by any reckoning it is having a pauper's fate. It is the fourth flop in a row for Ghai, known in the 1970 and 1980s for highly successful films such as Karma. Following his last successful film Taal [Images] in 1999, he has directed Yaadein [Images], Kisna, and Black & White which have had no luck at the box-office.
The North American box-office was led by the vampire film Twilight targeted at young women; the $35 million which has no stars and which received mixed reviews grossed $69 million over the weekend and could become profitable in just about two weeks.
Just two points below Yuvvraaj was the medium sized hit Dostana [Images] which grossed about $224,000 in its second weekend. It has grossed nearly $1 million in North America and $1.1 million in the United Kingdom. It was showing on some 70 screens.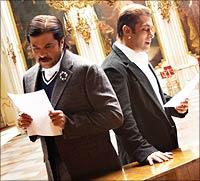 But the real winner of the week was the English-language film Slumdog Millionaire which features Anil Kapoor [Images] as the self-serving and duplicitous quiz show host. The National Public Radio described recently his performance as 'splendidly smarmy.'
The Mumbai-based story of a former slum boy looking for his long lost love by making himself famous on the Indian Who Wants to be a Millionaire show is getting one of the heaviest Oscar buzz so far. The film, which opened two weeks ago and is now showing on 32 screens in North America, has grossed a strong $1.5 million. It will be expanding through the holiday season; it adds 10 more screens on Wednesday.
The Danny Boyle-directed movie, which some Hollywood executives thought could go straight to video (at least in North America) when Warner Independent, which was to release it here, folded up has merged as a surprise hit. Fox Searchlight stepped in when the film's release seemed doomed, leaving Warner to open the $15 million in most of the world
'Fox Searchlight is the envy of the town,' wrote the Los Angles Times recently in an article on possible Oscar nominees. The Times had put together a panel of movie executives and writers to vote on the nomination chances.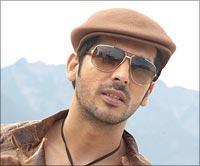 'Several voters said could be this year's Juno: an art-house release (also distributed by Fox Searchlight) that, buoyed by consistently rave reviews and budding award attention, could cross over into the mainstream.'
Download Ringtones and Wallpapers
Juno, made for less than $8 million, grossed $145 million in North America and $80 million abroad. Nominated for 4 major Oscars in 2008 including best picture, it was a winner for the best screenplay
Three LA Times panelists also said director Danny Boyle's film could gross $40 million or more -- a robust showing by a film which was unknown in America till it opened at Telluride Film Festival and then went on to become a hot favorite at the Toronto International Film Festival where it also won the People's Choice Award.
Boyle has said that he had no idea that the film, which is yet to open outside North America, would be welcomed here. He was mostly hoping that it would be a hit in his home country, with Britain having more understanding of India and the Bollywood style of film-making
Email |
Print | Get latest news on your desktop