Home > India > Movies > Report


Discuss |
Email |
Print | Get latest news on your desktop

Will the Khans save Bollywood?

Ashish Sinha | November 17, 2008 12:14 IST


| | |
| --- | --- |
| A scene from Ghajini. | |
| | |
| | |
| | |
| | |
| | |
| | |
Hindi film industry's fortunes are tied to three major films featuring Shah Rukh Khan [Images], Salman Khan [Images] and Aamir Khan [Images] to be released next month.
December could well turn out to be the crucial month for the Hindi film industry. If Bollywood's three forthcoming films starring Aamir Khan, Salman Khan and Shah Rukh Khan in Ghajini [Images], Yuvvraaj, and Rab Ne Bana Di Jodi, respectively, become commercially hit then 2008 may prove to be a good year for the Hindi film industry, especially at the time of the economic slowdown.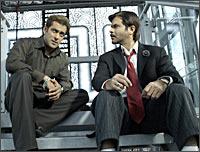 Releasing in December, Rab Ne Bana Di Jodi is a Yashraj film featuring Shah Rukh Khan and the newcomer Anushka Sharma in the lead roles. Yuvvraaj is a Subhash Ghai [Images] film with Salman Khan, Anil Kapoor [Images], Katrina Kaif [Images] and others while Aamir Khan's Ghajini is the re-make of a superhit Tamil film.
Surprisingly, despite a poor start at the beginning of this year, so far, 2008 has seen about 8-10 per cent increase in the box-office collections of the top 10 Hindi films compared to those in 2007.
According to film experts and leading trade portals, these numbers are based on the overall box-office collections including those reported from the overseas market and from the sale of TV rights, among others.
This means, that the top 10 Hindi films released this year -- among them, Singh Is Kinng [Images], Jodhaa Akbar [Images], Race and Jaane Tu [Images] Ya Jaane Na, have generated more cash at the box-office than the top 10 films of 2007 like Om Shanti Om [Images], Welcome and Taare Zameen Par [Images]. All eyes are now set on the three important releases of the three Khans of Bollywood.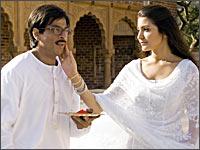 "It's a little early to bring out the calculators. But initial estimates are that Bollywood has so far seen over Rs 800 crore in box-office collections from its top 10 films compared to Rs 740 crore generated by the top ten flicks of 2007," says a film analyst from Mumbai on condition of anonymity.
However, according to him, if the Aamir, Salman and Shah Rukh Khan films to be released next month don't do well, then the 2007 story may look slightly better compared to the current year.
Says a senior executive of a Delhi-based multiplex chain: "We suffered a dip in the box-office collections because of Indian Premier League [Images] earlier this year. A lot is riding on Shah Rukh Khan, Aamir and Salman Khan films and we expect the audience to come to the theatre to watch them."
Last year, it was Om Shanti Om (November 2007), Welcome (December 2007) and Taare Zameen Par (December 2007) that made the cash registers ring for the Hindi film industry. "We are hoping for an encore with the three December releases this year," says a trade analyst.
Powered by
Email |
Print | Get latest news on your desktop