Home > India > Movies > Bollywood News


Discuss |
Email |
Print | Get latest news on your desktop

'Dasvidaniya will change your mind about Indian films'

November 13, 2008 12:48 IST


| | |
| --- | --- |
| Vinay Pathak | |
| | |
| | |
| | |
| | |
| | |
| | |
Vinay Pathak is one versatile actor and his work in Bheja Fry, Khosla Ka Ghosla [Images], Manorama Six Feet Under and Mithya -- all dark comedies -- bears testament to this fact. 
Now, the actor is ready with his latest movie Dasvidaniya where he plays a person who has only three months to live. Directed by Shashant Shah, the film also stars Rajat Kapoor [Images], Neha Dhupia [Images], Ranvir Shorey and Gaurav Gera.
Vinay came to our office on Wednesday to promote his film during a chat with fans. For those who missed the chat, here's what transpired.
Administrator says, Sorry for the delay. Vinay Pathak should be here in 15 minutes.
---
Vinay Pathak says, Hello everyone, I am here, namaskar, love to all. Please shoot your questions.
---
sheena asked, m waiting for ur dasvidaniya movie....another bheja fry!
Vinay Pathak answers,  It is not Bheja Fry, it is Dasvidaniya.
---
subhajit asked, hi vinay.. this is subhajit here from Mumbai. First of all let me wish you for making some quality movies and taking the level of cinema to next step. Your association with Rajat & Ranbir is also giving us great movies. Will you tell us what exactly is the theme of Dasvidniya? And looking at the trailers it seems you are playing the central character. Please tell us about character as well.
Vinay Pathak answers, Dasvidaniya is a simple story of a very simple and an ordinary man and about how an ordinary man also deserves an extraordinary life. Please go and see it. You won't be disappointed this time as well.
---
Afzy asked, O.K Vinay, I am in Russia [Images] and I know what does Dasvidaniya means.. I guess you have a Russian lady in this movie to justify the title of the film.
Vinay Pathak answers, Her name is Svetlana and she plays an important and integral role in the film. If you have a Russian fetish then this is the film for you and if you don't then this definetly is the film :-)
---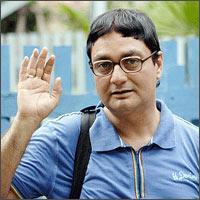 Shekhar asked, Hi vinay, I have seen u and noticed you from your earlier movies also.. the energy u create on screen is infectious.. I was recently watching Bombay boyz. and was watching your role in that movie.. despite a small role u played that with flair.. It's your persistence and patience that has finally brought success for you.. what would u suggest for newcomers?
Vinay Pathak answers, Thank you Shekhar. Please spread such rumours. And for newcomers....Rumous go a long way in an actor's career. Always believe in them.
---
vidyasagar asked, i ve seen u as an idiot in bheja fry, and enjoyed your fluent dialogues in manorama. please play a south indian, and not the stereotypical one. cheers!!! u rock
Vinay Pathak answers, Thank you, I will keep that in mind.
---
Sami asked, Hi Vinay m a very big fan of urs as well as ranvir shorey's. u both rock together. Are u guys planning to make any movie wth u both in lead in the near future?
Vinay Pathak answers, Inshallah, very soon Shami.
---
raji asked, y r u dont want to become hero
Vinay Pathak answers, It depends how you describe a hero. I just want to keep making the kind of films that I am making now. Is that not hero enough for you? And not to forget a duet dance number with Madhuri Dixit [Images] in Aaja Nach Le, guess who?
---
vijaykumararya2 asked, Sir I am fan of ur acting. What a actor u r. I seen ur lot of movie mithya, Bheja fry. U r better than Amitabh [Images] and King Khan [Images] really sir u r
Vinay Pathak answers, Aap ke moonh mein ghee shakar aur agar aapko diabetes ho toh main sugar free butter chicken bhej raha hoon aapke liye.
---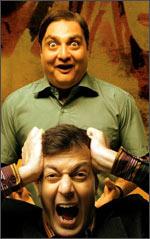 Kandarp asked, Vinay .... Are you Gujarati????
Vinay Pathak answers, No, I am not. I am a Bihari.
---
Kavita asked, Which of your new movies coming up?
Vinay Pathak answers, Dasvidaniya, Dasvidaniya on Friday, Dasvidaniya on November 14. And there are many other films which I will talk about when they are about to come, I promise.
---
amrita asked, Hello Vinay ji, You are a superb actor. Can you please tell me the meaning of your upcoming film Dasvidaniya
Vinay Pathak answers, Abhi mere ek laute release par dhyan do please.
---
boom boom asked, what is ur dream role & dream actress?
Vinay Pathak answers, Any role that is a part of a strong story line. And integral in telling that wonderful story. And dream actress anything integral and cerebral in the story line.
---
manic asked, why indian flim are not upto to reality like english flim all related only one thing love story
Vinay Pathak answers, That is not true. Watch Dasvidaniya and you might change your mind.
---
gpbarai asked, Hi Vinay, I like your acting vary much..... so do i like your stand up comedy.... wil you stop stand up comedy, now that you are getting good offers from film industry?
Vinay Pathak answers, First of all, I have never done stand up comedy and thank you for fantasising such great things about me. Please keep it up.
---
jai asked, Hi Vinay, WHen is SRK [Images] releasing?The teaser poster looked very catchy
Vinay Pathak answers, In January most probably.
---
vineetk asked, What kind of role you play in Rab Ne Bana Di Jodi?
Vinay Pathak answers, Oh I have to so much to tell about that film and I will tell after two weeks because this week my pledge is to Dasvidaniya. I sincerely hope you go and catch the film and if you like it spread it like fire.
---
DJSHANKY asked, vinay which director you enjoyed the most to work with, choose one??? 1) Sriram Raghvan-Johnny Gaddar 2) Dibakar Banerjee-Khosla Ka Ghosla 3) Sagar Ballary-Bheja Fry
Vinay Pathak answers, Sriram Raghvan of Johnny Gaddar and Sagar Bellary would share the first place.
---
RanvirS asked, Hello Sir, You are a fab actor. Each one of ur performance is better than the other. WHo s your fav Actor male & female. & when can we see you in another role like Khoya khoya chand.
Vinay Pathak answers, My favourite actors in the Indian film industry would have to be Balraj Sahni, Moti Lal, Dilip Kumar [Images], Meena Kumari, Nargis [Images] and Konkana Sen Sharma [Images]. Madhuri Dixit an all time favourite.
---
arvindsrk1 asked, i saw ur interview with arnab yesterday in times now,i could totally relate with u,i want to become a very big director,n makin movies is my passion,though m pursuing my engineerin now,at a later stage i want to enter the film world,u r a guy who has come up by struggling and i want you to give me a proper advice.
Vinay Pathak answers, Why waste time in engineering college when you can start right now.
---
bhatiarohan asked, Hi Vinay... How did Dasvidaniya happen?
Vinay Pathak answers, Arshad Syed a friend of mine came to us with a wonderful script. When Shashank (director of the film) and I heard the story, we instantly jumped at it.
---
Rohit asked, Hi Vinay, whats is the secret behind delivering such nice movies like "Bheja Fry", & "Jhony Gaddar", when every big star is going for 6 packs & multi million projects?
Vinay Pathak answers, Good story, great screen play, wonderful dialogues and a vision in story telling as Sagar did in Bheja Fry, an example of good cinema and that is I am very proud of it. If you called it as a secret then I guess that is why I am following it.
---
pradeep@ asked, Hi Vinay...been a gr8 fan of you since teh Hip Hip Hooray and VJing days..
Vinay Pathak answers, Thank you so much. I hope you continue to watch the movies that I am making. Please do catch Dasvidaniya this weekend.
---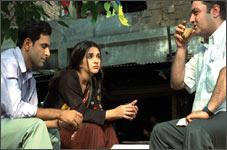 DJSHANKY asked, How do you rate your movies and which movie you find best for you. Please choose: 1. Johnny Gaddar 2. Manorama Six feet under 3. Khosla ka ghosla 4. Bheja fry
Vinay Pathak answers, 1) Bheja Fry, 2) Khosla Ka Ghosla since it was the first of my kind of cinema, 3) Manorma and 4) Johnny are very dear to me because they were offered to me after Bheja Fry. That shows the confidence of director who saw my ability as an actor.
---
Adesh asked, vinay sir... can u tell me .. wat it really requires for getting into bollywood!!!
Vinay Pathak answers, One point programme. Be what you want to be and start right away. There is nothing like the best time. Now is the only best time available always.
---
Adesh asked, vinay sir i m a big fan of u ,,,, i m from delhi ... will u meet me when i come to mumbai
Vinay Pathak answers, Yaar main Delhi [Images] to kabhi gaya nahi, I am also a big fan of yours and I am from Mumbai. I guess my next film will be Chalo Delhi.
---
Ketan asked, Hello Vinay. Will we ever see you in some serious roles? The promo of your new movie seems like its a serious role
Vinay Pathak answers, It is a very intersting role. It is everything that life throws at you, happiness, sadness, funny, serious, its a complete life film and role.
---
Mangesh asked, Dear Vinay, Actually I am expecting a lot diff roles from you coz I know you have that potential.....
Vinay Pathak answers, Thank you Mangesh, I will try and live up to your expectations, always.
---
vani asked, hey vinu this is vani here so boss after struggling as an actor kaise lag raha hai producer banke?
Vinay Pathak answers, Bahut Accha lag raha hai, waise struggling abhi bhi jaari hai as a producer.
---
miracle asked, hey vinay how did u manage to pull down down so much of weight?? Wats the secret behind it. Please share with us
Vinay Pathak answers, Yoga and eating right. Staying vegetarian helps.
---
Vinay Pathak says, Everyone: Thanks you for the attention and the warmth. Please go and watch Dasvidaniya on the first weekend and I can guarantee you that you will not be disappointed. If you have any queries after watching the film, please adress them to me at lemonteaproductions@gmail.com We value all your comments and opinions and we will try to keep up to your mark. Thanks you very much. Dasvinaniya to all.
Email |
Print | Get latest news on your desktop