Home > India > Movies > PTI



Discuss |

Email |

Print | Get latest news on your desktop

'I am open to Bollywood offers'

November 03, 2008 15:07 IST
Last Updated: November 03, 2008 15:32 IST


| | |
| --- | --- |
| Daniel Craig | |
| | |
| | |
| | |
| | |
| | |
| | |
Picture this, 007 agent Daniel Craig [Images] shaking a leg to a Bollywood song and belting out trademark Hindi dialogues. This might no longer sound unreal as the new Bond has shown eagerness to make a debut in Bollywood.
"I am open to offers from India but unfortunately till now nothing has been put across me by the film fraternity of India," Craig told PTI in an email interview.
The actor, however, admits that he has not seen any Indian film so far but he is overwhelmed by the love of Indian fans. "Till now I haven't been fortunate enough to get hold of an Indian movie. But yes, I will be very honoured and excited to work with an Indian actor or actress on any given chance. I also feel very obliged for the immense popularity which I enjoy in this part of the world," he says.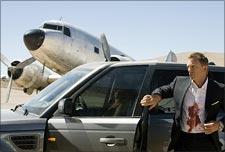 After making his presence felt with Casino Royale, Craig would be seen in an entirely new avatar in Quantum of Solace, which is releasing in India on November 7. Quantum of Solace will be releasing in India a week before its release in US.
"People would witness the biggest roll-out for any Hollywood film in India since we will give our audiences the thrill of experiencing Quantum of Solace even before the US and due to some distribution strategies," the actor says.
He also hopes that the film will find favours with the audiences in India. "Bond films have always been liked by audiences world wide and we expect that it would rule the box office and hearts of Bond fans too."
About the much-talked changes that the new Bond film includes, Craig says, "James Bond's [Images] character has been very successful in creating an everlasting impression in the minds of its fans but to live up to their expectations you have to keep improving your skills and acting."
The film has been a life changing experience for the actor as well. "It changed me. I had quit smoking to make my character look lively and upbeat. Smoking is a slow poison so not just for the movie but for my health also I had to quit smoking," says the actor. The American actor hopes to grip the attention of audiences through Bond's new found persona and on-screen presence.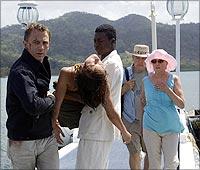 "Playing bond for the second time was a privilege for me. But yes, being a Bond film one can expect some surprises. These surprises are for you to check out," Craig says. A sequel to Casino Royale, Quantum of Solace will see him return to his latest mission and pick up threads from his last adventure to begin a new journey as the elusive British secret agent.
When asked whether the new Bond character is the most merciless avatar till date, the actor says, "Bond is wounded by the death of his lady love. There is no place for mercy in his heart till he gets hold of the culprit responsible for snatching his love."
Quantum of Solace has been one of the most difficult film to shoot with Craig suffering a series of mishaps while shooting the action scenes.
"We had to be authentic with action sequences. We trained for hours everyday which was very tiring but at the end of the day our efforts paid off.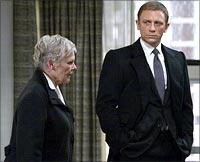 "I had sliced off the end of my finger and I lost the power in it but luckily it's really healed fast. There's a tiny scar. I was slamming a door on Mathieu's face so I deserved it," he says jokingly. But it is nothing compared to the other injuries that he faced. "I got eight stitches in my face from a kick but there was nothing to worry about. I went back at work immediately and compared to many other things that happened, it was nothing," he says.

The film has been extensively shot on different foreign locations as compared to any other Bond film in the past 46 years, he says, adding Quantum of Solace is a trademark bond film leaving aside some usual aspects.

As far as the removal of trademark dialogues is concerned, they were not included in the film to bring out some new dimensions of Bond, he says. The actor, however, insists that the film is special for him. "It has been a terrific journey and I knew that this one is something special," he says.

Craig, who has been involved many months prior to the shooting of the film says, "I was involved with the film right from the name Quantum of Solace. I looked at the script, worked on the casting. It has been a lovely experience altogether."




© Copyright 2008 PTI. All rights reserved. Republication or redistribution of PTI content, including by framing or similar means, is expressly prohibited without the prior written consent.


Email |

Print | Get latest news on your desktop