Home > India > Movies > Bollywood News

Race: Huge winner abroad

Arthur J Pais in New York | March 25, 2008 14:42 IST


| | |
| --- | --- |
| A still from Race | |
| | |
| | |
| | |
| | |
| | |
| | |
With the distinct possibility of becoming the second bonafide hit of 2008, Race galloped up the box office charts, grossing $8.25 million in India, and $ 10.5 million worldwide, in three days.
According to distributor UTV, the film, which at the estimated cost of $10 million is among the handful of most expensive films made in India, had many full house shows across the world. It had a massive 1,000 print release in India.
The suspense thriller could become Katrina Kaif's fourth hit in a row following Welcome, Partner, Apne and Namastey London [Images]. The film, also featuring Saif Ali Khan [Images], Akshaye Khanna [Images] and Bipasha Basu, has become the second Hindi film to have a day-to-day release in Pakistan as in India and more than two dozen countries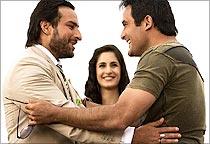 Its excellent opening has also given a boost to the careers of the directing duo of Abbas-Mustan, whose last two films Naqaab and 36 China Town were not successful. Race was certainly a bigger risk since it must have cost much more than the combined budget of their last two duds.
For the producers, Tips, Race would be a big morale boost and possibly a significant moneymaker.
Critics could argue that Race was a mindless thriller, weakly trying to emulate Hollywood hits but at several New York and New Jersey screenings last week, younger audiences, in particular, said the film offered plenty of masala.
Its release comes just as the year's first hit Jodhaa Akbar is winding its way out of significant number of theatres. In India, Race could overtake Jodhaa Akbar, which has grossed about $19 million.
But in North America where Jodhaa Akbar is ending its run with an awesome $3.4 million, Race may have to take the second position. Jodhaa Akbar has grossed, according to International Movie Data Base, and producer-distributor UTV, about $26 million worldwide. The top guns are Om Shanti Om and Welcome, each grossing about $32 million worldwide.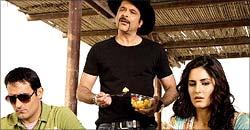 Jodhaa Akbar and Race were released by UTV in North America; the latter grossed about $800,000 in 96 theatres. Jodhaa Akbar, on the other hand, had opened with a massive $1.3 million in more than 120 theatres in the same territory.
Though Race grossed $700,000 in the United Kingdom, it made proportionately more money in that territory compared to North America for it was showing in just about 46 theatres in UK.
According to UTV,  the film made $500,000 in the Gulf and other Middle Eastern countries. In the remaining territories including Australia, it made about $450,000. Even if the film were to come down by 50 percent in the next few weeks, it could end its run with a handsome $19 million world-wide.
Factor in the sale of television and music rights, and the revenue from product placement, and then one can safely say that Race would make everyone connected with it happy. Given the lack of strong competition next week, it should hold itself quite well.