Home > India > Movies > Report

Sukhvinder Singh's lucky charm is SRK!

March 11, 2008 14:51 IST



 

"I have been around for a decade but I have sung just about 100 songs," Sukhvinder had told India Abroad a few months ago, on the sidelines of a performance in New York. "I am never in a hurry to sing too many songs."

 

Sukhvinder is in the limelight once again with a fabulous soundtrack for Subhash Ghai's [

Images

]

Black & White

. Recently, he also composed music for Raj Kumar Santoshi's [

Images

] well made but ill fated

Halla Bol

.


The singer had composed for close to 12 films without making an impact, but with the Halla Bol and Black & White soundtracks, he could be taken seriously. Of the two, his work is better in the Ghai film, and it is not hard to guess why. Santhoshi has never really inspired his composers to come out with anything out of this world.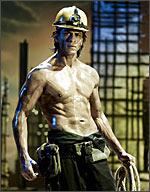 For Ghai, however, more often than not the music comes first. As A R Rahman, who has worked with Ghai on two earlier films and is now composing for the director's upcoming Yuvraj, has said having Ghai around is like having a collaborator who is also like a composer.
Sukhvinder also said that he considers
Shah Rukh Khan his lucky charm
. Though the Khan-starrer
Dil Se
flopped in India (it was quite a hit abroad), its
Chaiyya Chaiyya
number became an international hit. Hollywood A-lister Spike Lee was so impressed he used the song for the opening and closing credits of
Inside Man
, an edgy heist movie that starred Denzel Washington, Clive Owen [
Images
] and Jodie Foster.

'There are a lot of other people who make a song a hit,' Sukhvinder told the Indian film weekly
Screen
. 'Even the presentation of the song counts. But I cannot forget the presence of SRK [
Images
] in
Chak De!
or
Dard-e-Disco
. The songs I sing for other heroes are also hits. But somehow, the ones I sing for SRK become super hits.'