Home > India > Movies > Bollywood News


Discuss |
Email |
Print | Get latest news on your desktop

Akshay to rock Vancouver

Ajit Jain | July 31, 2008 18:40 IST


| | |
| --- | --- |
| Akshay Kumar | |
| | |
| | |
| | |
| | |
| | |
| | |
Vancouver, Canada [Images], may miss out on seeing the Bachchans perform in their city. But they need not worry. They will get to watch Akshay Kumar [Images] instead.
Akshay will arrive at Vancouver's PNE (Pacific National Exhibition) -- in a helicopter no less -- and give them a concert to remember on August 2. The actor will especially promote his upcoming film, Singh Is Kinng [Images], in the city, which has a large Sikh community.
Akshay's show is expected to draw a minimum of  8,000 to 10,000 fans, says Ajay Virmani, President of Toronto-based Cargojet, who organises shows and dabbles in film production.
Akshay's show may eclipse the demand for the Unforgettable show in Vancouver, which was scheduled for August 17. It has been cancelled due to poor ticket sales, attributed to the fact that Akshay was not going to perform in the concert.
"Amitabh Bachchan [Images] is no more a crowd puller," a source says. "He has made dozens of appearances in the Canadian cities. He hardly talks with the people."
Another factor that has resulted in the cancellation of the Vancouver show is the high ticket prices that WizCraft, the primary promoters of the Unforgettable tour, have demanded from the local franchisee. It is reportedly in the range of $650,000, which is $200,000 less than what the Ethnic Guru promoters in Toronto paid to WizCraft. WizCraft says it costs them a million dollar to mount one show in North America.
Inside sources say Amitabh Bachchan was angry at the poor ticket sales in Toronto. In his blog, of course, he has claimed that the revenue sold out. 'We have to open the tiers to accommodate more people and the fire marshals and security had the time of their life keeping the vibrant crowds in their seats,' he wrote.
It is no secret that the Toronto show did not sell more than 8,000 tickets in a stadium where they could seat 30,000 people.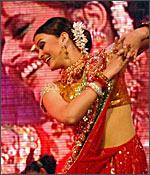 Poor ticket sales have been attributed to expensive tickets -- ranging from $97 to $287, and VIP tickets in the $1000 range. Realising tickets were not being sold, promoters Ethnic Guru were forced to open a new section at $65 a ticket.
According to insiders, WizCraft and Ethnic Guru made a mistake when they did not promote Akshay until after the IIFA (Indian International Film Award) event in Bangkok, just two weeks before the Unforgettable tour started on July 18.
"Till then, they had sold barely 3,000 tickets," says a source. Only after they started promoting Akshay, they sold an additional 4,000 to 5,000 tickets, bringing the total ticket sales in the neighbourhood of  8,000.
However, the local promoters gave the ticket sales number as 13,000 to Ontario Tourism Minister Peter Fonseca's office.
The Toronto Star reported 10,000 people watched the Unforgettable tour in Toronto.   
A report in the Link, a Vancouver newspaper, reveals that WizCraft charged 'an exorbitant amount of $850,000 for the Toronto show from Ethnic Guru and on top, the local promoters had to spend more than $350,000 to $400,000 in other costs related to the show.' With this kind of investment, the reports says 'the new promoters were bound to fail.'
Those who know the Ethnic Guru claim that they do not have much experience of organising big shows. No wonder the Bollywood stars were upset over the facilities. "There were no cars to ferry the stars around, there wasn't even proper Indian food to cater to their individual tastes," says our source. "If someone wants yellow dal, give him yellow dal. But no, they couldn't. No wonder tempers were high, negatively impacting the show."
Email |
Print | Get latest news on your desktop