Home > India > Movies > Bollywood News


Discuss |
Email |
Print | Get latest news on your desktop

Forgettable controversies over Unforgettable show

Ajit Jain in Toronto | July 28, 2008 13:24 IST


| | |
| --- | --- |
| Aishwarya Rai and Abhishek Bachchan | |
| | |
| | |
| | |
| | |
| | |
| | |
Bollywood megastar Amitabh Bachchan [Images] might be ecstatic over the success of the inaugural show of his Unforgettable tour at the Rogers Center in Toronto, July 18, but there are conflicting reports about how many people actually watched some of India's biggest movie stars do the Bollywood shimmy.
'What a show,' Amitabh gushed on his blog after the Toronto performance, which kicked off a world tour featuring him, son Abhishek and daughter-in-law Aishwarya Rai [Images], along with Preity Zinta [Images]. Akshay Kumar [Images] also performed in Toronto, but it is unlikely he will be part of the world tour. 'Incredible, nonstop adrenaline! And the Torontonians, got it right this time, were just unbelievable. They spurred us on and item after item just went like a bomb,' Amitabh continued, adding, 'the revenue sold out. We have to open the tiers to accommodate more people and the fire marshals and security had the time of their life keeping the vibrant crowds in their seats.'
The Toronto Star reported that 10,000 people were present in a stadium that -- even after cutting off one side completely for a 40'x70' stage -- could accommodate 30,000 people. It can seat up to 55,000 people when all the five levels are open.
India Abroad received several letters claiming there were not more than 8,000 people present. One letter writer lamented that 'such outstanding artists had to perform before empty seats.'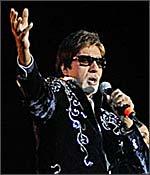 Roger Nair, the distributor of the film Guru in Canada [Images], said there were a maximum of 8,000 to 10,000 people present.
Peter Fonseca, Ontario's minister of tourism, told India Abroad that there were 23,000 people present. When told there were reports contrary to that number, he said he would try and find out.
The tickets were initially priced at $97 to $287. The $97 tickets were sold at $60, because, apparently, there was not enough demand.
At the pre-show media briefing, a reporter complained that most South Asians would not be able to afford the high ticket prices. Amitabh replied, "I do not dictate or control this. The promoters do."
One of the promoters chipped in, saying that some immediate alterations had already been made "to accommodate those that were finding the price steep." He alleged that questions like these meant that "emphasis is being given to write the negative only and ignore the positive."
There have been reports in the Indian media that a rival Bollywood star -- or a clique of rival stars, it has not been spelled out -- have been trying to 'sabotage' the Unforgettable tour.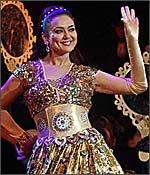 Amitabh took exception to the reporter's framing of the ticket-price question -- "tickets are priced high in order that the Bachchans can jangle their jewellary on stage." The Big B [Images] of Indian cinema called it "a most repulsive remark... We are not here for money. It is an opportunity for us to meet and greet our fans and provide them entertainment for a few hours. That is our wealth and our most prized jewellary. Nothing more."
Despite repeated attempts, Ethnic Guru, the organisers of the show, were not available for comment on the ticket sales or the number of people who attended.

"A lot of factors could have influenced ticket sales -- like timing, marketting, the experience of people handling it locally, getting the word out to the public and specially the fans, etc," said a source in the event management industry, who did not wish to be named.
"Amitabh Bachchan is an icon of the Indian film industry," said Roger Nair, "and his performance at the show was outstanding. I'll cherish that for the rest of my life," Nair said.
Email |
Print | Get latest news on your desktop