Home > India > Movies > Report


Discuss |
Email |
Print | Get latest news on your desktop

Remembering M P Shankar

R G Vijayasarathy | July 18, 2008 16:29 IST



M P Shankar was passionate about making films on wildlife and nature. The 70-year old actor who has acted in over a hundred films enjoyed a special stature in the Kannada film industry. 

Shankar, who breathed his last on Thursday in Mysore after waging a relentless battle against bone cancer, was known for his kindness and his trademark frankness.

A producer of sixteen films including Gandhada Gudi which still remains one of the best films made in the industry, Shankar took risks by making films on wildlife and forests thereby proving that a good story can make big money at the box office.

Gandhada Gudi is also notable for the fact that it is the first and last film featuring two Kannada movie legends -- Dr Raj Kumar and Dr Vishnuvardhan -- together.

Shankar's love for the wildlife can be traced right from his first production Kadina Rahasya, which was directed by Geethapriya. This first feature film was made against a forest background. 

Before making a debut in films, Shankar was acting in an amateur theatre group in Mysore. Here he was spotted by veteran director and writer Hunasuru Krishnamurthy who then introduced Shankar into the industry with Rathnamanjari.   

From villain roles during the beginning of his career, Shankar later gained acceptance for portraying a variety of characters including the positive ones. He won much acclaim for his comedy films like Narada Vijaya and Giddu Daada.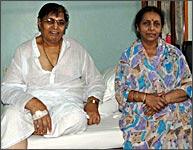 But what made him truly memorable was his immortal roles of Veerabahu in Sathya Harischandra and Bhoothayya in Bhoothayyana Maga Ayyu. In fact, so popular was his Bhoothayya character that he named his newly constructed house in Mysore it!
Offering his condolences, Dr Vishnuvardhan, who has acted in a few films made by Shankar said, "Shankar was a great human being and wanted to make films on his terms. His films bore the stamp of individuality and innovation. He faced success and failures in life in equal measure. But his passion for making films based on wildlife and forests remained throughout. He had offered much needed support when insinuations were made by some vested interests to tarnish my career."
Actress Jayamala, who was recently elected President of the Karnataka Film Chamber of Commerce fondly remembered many interactions with Shankar. She said he was always tender-hearted though he gave an impression of being a tough nut. 
"He made films that defied the norms of the industry and yet succeeded in many of them," Jayamala said.
Email |
Print | Get latest news on your desktop