Home > India > Movies > Bollywood News


Discuss |
Email |
Print | Get latest news on your desktop

Jaane Tu wins over Love Story overseas

Arthur J Pais | July 08, 2008 14:18 IST


| | |
| --- | --- |
| A still from Jaane Tu... Ya Jaane Na | |
| | |
| | |
| | |
| | |
| | |
| | |
Several months ago, when UTV bought the film
Jaane Tu... Ya Jaane Na
for distribution outside India, many people wondered if the seasoned distributor with a lucky streak (
Race, Rang De Basanti [Images]
) was making a mistake.
"Many people said films without stars won't do any business abroad," said UTV's Lokesh Dhar. "They said we were making a mistake and we should let the film go straight to DVD. But we had faith in the film and its leading man Imran Khan [
Images
] and writer-director Abbas Tyrewala. We thought it would be a film that would instantly appeal to young audiences. Even then we decided to give the film a decent but modest break, and we have been proved right."
For a small budget film, word-of-mouth publicity is very important, and many people at
New York
theatres said they would recommend it to their friends. It is a good date movie, is the opinion shared by many college students.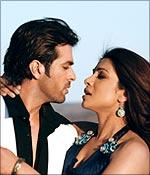 The film grossed over $200,000 in its first three-day weekend across
North America
on 33 locations and totally eclipsed
Love Story 2050
, the big budget sci-fi romance which too had a new star, Harman Baweja, along with Priyanka Chopra [
Images
].
Jaane Tu
has reportedly grossed a highly impressive $4.5 million in its first weekend in
India
. Given the film's low cost, it could recover the investment in just 10 days.
"The only two big things we had going as an initial draw for
Jaane Tu
was that it was produced by Aamir Khan [
Images
]," said Dhar. "Aamir's
Taare Zameen Par [Images]
 was also released by UTV and had a smash run in
America
, the Gulf countries and the
UK
. And there was the refreshing musical score by A R Rahman. His music in
Jaane Tu
unlike anything he has done before."
The movie's $200,000 gross is quite impressive when one considers the number of locations showing it. While a star-driven film such as Tashan could gross just about $300,000 while being shown in some 80 theatres, the initial gross of Jaane Tu is heartening, to say the least.
The only film to open with a bang in
North America
in the last three months was
Sarkar Raj,
which grabbed $700,000 in the first weekend. But the expensive film crash landed in the second week as it did in
India
, and ended its North American run with a mediocre $1.1 million.
"Another reason Jaane Tu did very good business is because it looks very appealing," Dhar said. "The story may not be new but Abbas Tyrewala has given the film a fresh look. And the college kids in the film do look like college kids. That is a big plus."
It performed strongly in the
Middle East
including the Gulf grossing $177,000 at 15 locations, as well. However, in the
United Kingdom,
it grossed an anemic $60,000 at 13 locations.
Email |
Print | Get latest news on your desktop