Home > Movies > PTI

Golden Globes lose sheen

January 08, 2008 15:39 IST


| | |
| --- | --- |
| Star of the hit comedy series, Seinfeld, Julia Louis-Dreyfuss in the picket line. | |
| | |
| | |
| | |
| | |
| | |
| | |
The star-studded Golden Globe annual movie and film awards ceremony has fallen victim to the two-month-old strike by Hollywood television and film writers.
With top stars making it clear that they would not cross the picket lines, organisers have announced that the gala awards dinner would be replaced by a press conference on Sunday at which the winners of the 65th Golden Globes awards would be announced.
Jorge Camara, president of the Hollywood Foreign Press Association which gives out the awards, expressed disappointment that "our traditional awards ceremony will not take place this year and that millions of viewers worldwide would be deprived of seeing many of their favourite stars.
"We take some comfort, however, knowing that this year's recipients will be announced on the date originally scheduled," he said in a statement.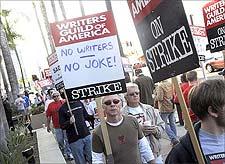 There might be some parties later for the winners but the red carpet black tie event is off, brought down by strike by members of Writers Guild of America, who are pressing for increased share of profits from Internet and new media sales, and decision by members from the Screen Actors Guild not to confront them.
The organisers decided against going ahead as the awards without the winners present would have been a tame affair and might have hit their credibility. Even as the Golden Globes awards function was cancelled, speculation began about the fate of the prestigious Oscar awards to be held on Feb 24 should the strike continue till then.
Several television serials have been affected and the networks are playing reruns. Analysts say that Hollywood film industry too has started feeling the pinch of the writers' strike which is continuing for tenth week.
The awards were to be telecast live by NBC which is one of the major corporations which have broken off talks and want writers to give up a number of demands which they consider unreasonable as a price for returning to the negotiation table.
According to the New York Times, the Hollywood Foreign Press Association, an organisation of about 85 international entertainment journalists, had received net income of approximately USD 6 million from ceremony's network license fee, table sales and other receipts.
The Academy of Motion Picture Arts and Science's said it was optimistic of brokering a deal that would allow the Oscars to take place as scheduled. "We really think we can work out some sort of agreement that will allow us to do a traditional Academy Awards broadcast," executive director Bruce Davis told the Los Angeles Times.
"We will not be resorting to the kind of expedients that the Golden Globes are resorting to. We can do the kind of show the public expects of us."
© Copyright 2008 PTI. All rights reserved. Republication or redistribution of PTI content, including by framing or similar means, is expressly prohibited without the prior written consent.