Home > India > Movies > Report

Your chance to win Rs 5 lakhs!

Rajul Hegde | February 29, 2008 14:09 IST
Last Updated: February 29, 2008 15:05 IST


| | |
| --- | --- |
| Vinod Sherawat | |
| | |
| | |
| | |
| | |
| | |
| | |
Really hard up for cash?
Then you may just be eligible for a new game show Kisko Milega Cash on Star One, which kicks off on March 3 at 10 pm.
But you should have a genuine reason (which would be carefully verified by the channel) for wanting to win the prize (Rs 5 lakhs).
The concept of the show is simple and unique. Three participants in need of money go head to head on the show. The participants present their case and then debate their needs with other participants. They will also be grilled by celebrity guests. The audience will then vote for the most deserving winner.
Vinod Sherawat (Bluff Master [Images]) will host the show. He will be joined by opinion  makers Anil Darkar and Neena Gupta, along with one celebrity per episode.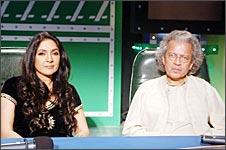 Each episode will involve questioning, cross questioning, debates and arguments between the participants and celebrity guests.
The winner will then be announced in the next episode.
There will be two SMS lines for the show -- one for voting and the other for the public to donate money to the participants of their choice.
There is also a bumper prize of Rs 25 lakhs to be won by the overall best winner at the end of the show's season. The channel at present is concentrating on participants from Maharastra.