Home > India > Movies > Bollywood News


Discuss |
Email |
Print | Get latest news on your desktop

Rab Ne opens big in North America

Arthur J Pais | December 15, 2008 13:48 IST


| | |
| --- | --- |
| Anushka Sharma and Shah Rukh Khan in Rab Ne Bana Di Jodi | |
| | |
| | |
| | |
| | |
| | |
| | |
The one-man box office engine called Shah Rukh Khan [Images] rode into 105 movie theatres across North America grabbing a powerful $1.2 million estimated gross for Rab Ne Bana Di Jodi in just three days. Working with director Aditya Chopra [Images] for the third time after Dilwale Dulhania Le Jayenge [Images] (1995) and Mohabbatein (2000), the star proved once again that his box office magnetism has remained undiminished over the last decade.
The new film -- in which Shah Rukh plays a common man who devises a plot win over the love of his life -- must have easily grossed over $3.5 million in three days outside India, trade experts believe.
For producer Yash Raj, which has suffered many flops in the last two years, the big success of Rab Ne..., following the strong showing of its previous release Dostana [Images], could be considered nothing short of a blessing. And for the trade which has watched helplessly as many big budget films like Yuvvraaj [Images], Drona [Images] and Love Story 2050 bit the dust, the strong opening for Rab Ne... seems a nice way to end the year, with good buzz awaiting the release of other big budget films Ghajini [Images] and Chandni Chowk To China [Images].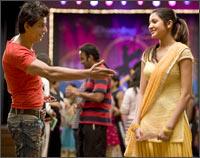 In North America, Rab Ne... was number 15 on the box office chart led by Keanu Reeves' [Images] The Day the Earth Stood Still, which grossed $31 million in more than 3500 theatres.
While the reviews in India have been mixed for Rab Ne..., some of the mainstream publications in America welcomed the film, saying that it made much more sense than the usual over hyped and over kinetic Bollywood films.
'In the last few years, Hindi films have become slicker and faster, full of dizzying camera moves and blink-and-you'll-miss-it editing,' wrote Rachel Saltz in The New York Times. 'The technical exuberance is almost always impressive, but it's starting to seem like its own cliche.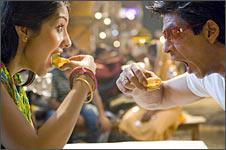 'How refreshing, then, to settle into Rab Ne Bana Di Jodi, a love story that has a different pace and feel than the recent crop of action thrillers,' she added. 'Rab Ne..., which reteams the director Aditya Chopra and Shah Rukh Khan, Bollywood's reigning superstar, is 'soft, sweet and slow,' in the words of one of its songs. It deftly blends comedy, the ruling tone of the new Bollywood, with melodrama, the ruling tone of the old.'
Shah Rukh has proved to be mighty lucky for Yash Raj. He has said that being directed by Chopra is the kind of collaboration he (Shah Rukh) enjoys most.
Many reviewers have praised Chopra's direction, though some in India have also said that the film loses its focus half way and tries to do too many things .
'Mr Chopra demonstrates how a director can master technology without being mastered by it,' wrote The Times. 'For him, storytelling comes first. (The plot has its flaws, but they're not deadly.)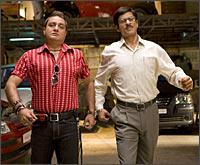 While some of Shah Rukh's biggest hits such as Kabhi Khushi Khabhie Gham have been multistarrers, his new film is solely driven by his star presence. Rab Ne..., which is not an expensive film (made for about $6 million while Ghajini cost nearly $9 million) is looking at least $6 million in North America, Western Europe, UAE and Australia [Images]. Even if it were to plummet by 60 percent in the second week, as it happens in the case of most Hindi films, passing the $5 million benchmark in foreign territories will not be a problem at all.
Shah Rukh was generous in praising his Rab Ne... co-star, newcomer Anushka Sharma [Images]. In video interviews made available by Yash Raj, he said he found a distinct advantage in working with new artists who happened to be much younger than him. The younger actresses brought in contemporary touch to their performances, said the actor who is in his early 40s.
Watching them emote made him think if he was doing stereotyped work, and pushed him into yet another gear, he added. His recent films have had new actresses -- Deepika Padukone [Images] in Om Shanti Om [Images], Gayatri Joshi [Images] in Swades [Images] and the girls hockey team in Chak De! India.
Email |
Print | Get latest news on your desktop