Home > Movies > Bollywood News

Did Idol get 900 SMSes per second?

Syed Firdaus Ashraf | September 24, 2007 18:40 IST



Can you quantify popularity?

Yes, if your names are Prashant Tamang and Amit Paul. In the final week of the show, the two Indian Idol [Images] finalists drew a combined tally of seven crore SMS votes between September 14, when the lines were opened for voting, and September 23, when the voting ended.

Prashant won the top prize and Amit was content with runner up -- but guess who is laughing all the way to the bank?

Each SMS is worth Rs 3; that is a cool Rs 21 crore in Sony Television's kitty, thanks to the vast number of Indians seduced by the magic of the reality show.

"The business of SMS saw a boom because of both the finalists," says Albert Almeida, executive vice president and business head of Sony Entertainment & Television.

"The two boys come from parts of the country that are seldom in the limelight. They became icons in their part of the world, and therefore, whether it is the Khasis of Meghalayas or the Gorkhas from Darjeeling, they all wanted their boys to win in a big way.

"The two boys drew fanatic support," Almeida says. "Also, the show proves the fact that if you have talent, it doesn't matter which part of the country you come from, you will make it."

Interestingly, while Sony is basking in its triumph, the naysayers are casting doubt on whether the figures can be swallowed without a bagful of salt.

The Cellular Operators Association of India says that as of August 2007, there are 14.77 crore mobile phones in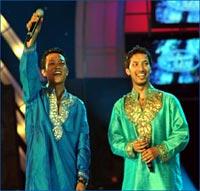 India, give or take.
The voting took place over nine days; that translates into 77 lakh votes per day; 54,012 votes (or SMS messages) per minute.
"If you say the Indian Idol finalist got 54,012 votes per day, I will tell you the figure is exaggerated," says a telecom industry insider. "What you are saying is, people are sending 900 messages per second?
"And what happens to the other television programs over those nine days? Most shows these days have an SMS component, and all shows claim they are getting huge number of SMSes. And there was also the cricket -- India was doing well in the Twenty20 World Cup. So no, I don't think the figures they are claiming can be right."
While the exact figures are being disputed, no one denies that the show drew phenomenal response. "People in the North East and in West Bengal went crazy," says a telecom industry analyst. "They felt they had got the opportunity to prove something at the national level, and that they needed to help their boys."
As rediff.com reported earlier, Nepali MP from Assam M K Subba announced that he will send SMSes worth Rs 15 lakh for Prashant.
The Kolkata police had also pitched in to help Prashant, a member of their force, with reports coming in that constables were given the job of sending SMS in large numbers.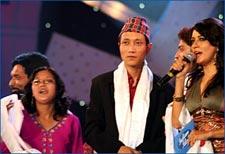 "These programs are essentially about immediacy," says Krishna Durbha, who heads revenue and marketing at Reliance Communications [Get Quote]. "People believe they are endorsing their stars; they also believe they have a voice in the outcome and that their opinion matters, and so they send SMSes favour of their favourites."
Alok Kejriwal, founder of Contest2win.com, concurs. "If you see the history of such talent shows earlier, customers never felt part of the program, they never felt their voice mattered. But today, they believe they are part and parcel of such shows, and that translates into being very active in sending SMSes and cheering on their favorites."
So will SMS revenue overtake the more traditional advertising stream as the new marketing paradigm for television?
"That is a bit bizarre," says Almeida, suggesting that while SMSes can be the icing, it would be premature to suggest they can comprise the whole cake. "I don't think that is going to happen any time now."