Home > Movies > Bollywood News

Abhay Deol's top five movies

Ruchi Naresh | September 21, 2007 15:10 IST


| | |
| --- | --- |
| Abhay Deol | |
| | |
| | |
| | |
| | |
| | |
| | |
Abhay Deol may not have a big hit to his credit yet, but he has always won great reviews. His latest film, Manorama Six Feet Under, seems to be another promising venture from this young actor.
An engineer by day, Abhay's Satyaveer plays a pseudo detective by night. But did you know that the youngest Deol wasn't the first choice for Manorama?
Being friends with the director, Navdeep Singh didn't ensure instant inclusion in the film for this actor. "Navdeep wasn't sure I would be able to play a middle class engineer. Besides the character was older," reveals Abhay.
Now, after the completion of the film, the director has complimented Abhay for his portrayal of small-town engineer penning a crime thriller in search of fame, acceptance and success.
Watch the film, and tell us what you think of Manorama. Meanwhile, Abhay lists his favourite movies, and tells us what he thinks of them: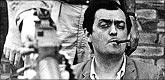 Dr Strangelove (1964)
Stanley Kubrick [Images] is one my favourite directors. This one is a dark comedy on nuclear weapons and American obsession with weapons of mass destruction. It is a masterpiece, very relevant and insightful. I feel it contributed in setting a new trend of filmmaking, made with complete honesty.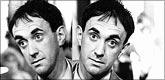 Brazil [Images] (1985)
Another classic still relevant to our times. I have seen it long ago. It's a political satire by Terry Gilliam on government control and power. I have a fancy for dark comedies and I love this one even more for its creative production value. Brazil is an amazing marriage of relevant political issues with priceless entertainment.

Star Wars
Let me pick something popular as well. I love the first three films (A New Hope, The Empire Strikes Back, Return of the Jedi). I have grown up to these films and it opened my imagination towards cinema.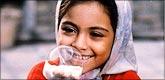 Children of Heaven (1997)
This is a simple and emotional film. In Hindi cinema, we try very hard to derive emotions involving over-the-top glamour. Majid Majidi has made this straight from the heart showing it doesn't take too much effort to connect with your audience.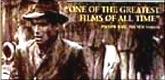 Bicycle Thieves (1948)
This is an Italian film, a must for film enthusiasts everywhere. I love the story-telling technique, taking no support from gimmicks. If I am not mistaken, it has won an Oscar. A collector's item.