Home > Movies > Bollywood News

Make way for Shilpa, The Big Don

The Bombay Bitch | September 10, 2007 18:28 IST

Before Celebrity Big Brother, her own brand of perfume and a million film offers just two short years ago, it was slim pickings for Shilpa Shetty [Images]. She was already slotted as a 'has been' moonlighting as an 'item girl'. Now that the going's gotten better (and how), everyone wants a piece of her.

We heard that 'super success wave rider' aka Ms Shetty is upset over her Kannada flick Auto Shankar being released in Hindi without her knowledge. This two-year-old, now dubbed flick, has Shilpa playing a mended Gabbar Singh of sorts, making this one a 'must watch to mock' classic.

I'm going to go and watch it and laugh my a** off, and repeat the process till the film ends.

The Hindi version is being called Shilpa: The Big Don. Surely with a title like that, she has every reason to be upset. Who ever heard of a svelte lass being called a don? Slang in Kannada maybe? Not to forget the now clad in Versace and Armani, the babe is seen in hideous animal print and imitation leather outfits in the Kannada film!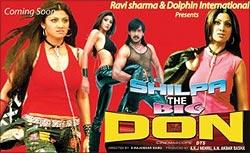 She did the film, when the chips were stacked against her, and she would have done pretty much anything for some screen space. Now as if this was not difficult enough for her to swallow, the makers even have a Web site up and running to cash in on her fame.
Her faithful publicist messaged Media people telling them all about this newest injustice done to Ms Shetty. Awwww, poor little rich girl!
But the real person we must sympathise with is the crorepati super-duper-ishstar of the Kannada industry, Upendra, the film's hero. What a blow to his ego?! Ms Shetty is actually embarrassed to be seen with him now. He's so last year...
Amidst all this celebrity freeloading and upstaging, Shilpa took out time to walk the ramp for designer Tarun Tahiliani at Fashion Week. And she was his show stopper... just how she likes it! The crowd went berserk when she did her little catwalk jig, the clapping and hooting, didn't subside for a long time.
Anyway, Shilpa was wearing a loud golden number but with the industrial strength push-up bra that went along with it, I don't think anyone remembers the outfit. We know who the real show stoppers were.