Home > Movies > Bollywood News

Chiranjeevi's daughter refuses to return home

Vicky Nanjappa in Delhi | October 22, 2007 20:57 IST



It would have been a perfect plot for a Chiranjeevi [Images] movie. The Telugu superstar's daughter, Srija, is now camping in New Delhi with her husband, Shirish Bharadwaj, after the two left Hyderabad citing a threat to their lives.

The 19-year-old girl eloped with her 22-year-old boyfriend against the wishes of her family, and got married in an Arya Samaj ceremony on October 17. Immediately after the ceremony, the couple approached the media, saying that they feared for their lives, and asked for police protection.

Also Read: Chiranjeevi's daughter weds

On Monday, Srija and Shirish, in a desperate bid to save their lives, knocked on the doors of the Delhi High Court seeking police protection. A Division Bench of the Delhi High Court took on record the plea by the couple and ordered that police protection be granted. The Bench, in an interim order, also said that the newlyweds would keep the Delhi police informed about their residential address in Delhi so that protection could be given.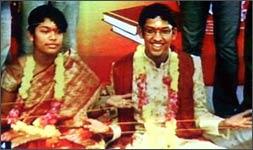 The couple, who were at their advocate Pinky Anand's residence, is still not confident of returning to Hyderabad. This, despite the assurance given by the superstar himself that no harm would be done to them.
The road for the couple has not been easy so far. First, the parents of both Srija and Shirish were against the wedding. So they got married without the knowledge of their parents.
Then, they had a rough tough time travelling to Delhi. They had to be on the lookout all the time as they feared that they
could be chased. The couple reportedly changed at least six cars before reaching their destination.
Also Read: Case against Chiranjeevi's son-in-law
In Delhi, they met up with a lawyer with a request to file a petition in the Delhi High Court for protection. Their counsel Pinky Anand says that her clients were majors, and legally married. Hence, the law could not stop them from continuing with their married life.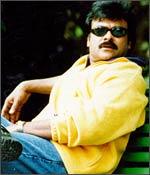 Anand also said that Chiranjeevi was a very influential person and that's why the couple feared for their lives. Their fears have not subsided despite the assurances given by both Chiranjeevi and his brother Pawan Kalyan.
"I was shocked when I came to know about the marriage," Chiranjeevi had said. "The important thing is that my family and well wishers have stood by me during this traumatic period. But now I want to bless my daughter and tell her that sweety, wherever you are, I wish you happiness."
The superstar's brother, Pawan Kalyan, surrendered his revolver in a police station in Hyderabad and said that it was a symbolic gesture by him to show that the family was in favour of peace and not violence.
Counsel for the superstar, Maninder Singh, said that they would file their reply before the Delhi High Court on October 29 in which they would make their stand clear. He added that the couple had nothing to worry, as Chiranjeevi had blessed the couple.
Sources say that the superstar's family want to put an end to this drama as they feel that they are getting a lot of negative publicity. Although the family may come to terms with this marriage, there could always a section among the fans that may try and cause harm to the boy, sources said.