Home > Movies > Bollywood News

Akshay scores over Abhishek overseas

Arthur J Pais | October 16, 2007 15:38 IST


| | |
| --- | --- |
| Akshay Kumar and Rajpal Yadav in Bhool Bhulaiyaa | |
| | |
| | |
| | |
| | |
| | |
| | |
With Akshay Kumar [Images] flexing his muscles with Bhool Bhulaiyaa, Abhishek Bachchan [Images] had no ghost of a chance redeeming his honour at the North American box-office over the weekend.
While the Priyadarshan [Images] directed Bhool Bhulaiyaa grossed a handsome $522,000 in three days on 55 screens, the Pradeep Sarkar directed Laaga Chunari Mein Daag -- which was far more expensive -- made a mere $320,000 on 60 screens.
This is the fourth hit in a row for Akshay in the lucrative foreign market. It follows Bhagam Bhag (also directed by Priyadarshan) in 2006; Namastey London [Images] and Heyy Babyy this year. His enviable record in the past four years makes him nearly failure-proof in the foreign markets. He could challenge, it seems, even the mighty Shah Rukh Khan [Images] in the foreign wickets.
While the Akshay-Vidya film was at number 25 on the charts, the Abhishek-Rani Mukerji film was at number 32.
For Vidya, Bhool Bhulaiyaa was a second hit in a row, following Heyy Babyy, which grossed about $2.8 million in North America and the United Kingdom. It has also has done superb business in the Gulf countries.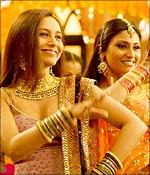 Trade insiders believe that Yash Raj should not have rushed to release their melodrama in the same week as Bhool Bhulaiyaa.

It was a terrible weekend for Shekhar Kapur [Images] too. His Elizabeth: The Golden Age seems to follow his luckless The Four Feathers, yet another historical drama that released about five years ago.

Unless the new film, which reportedly cost $70 million but grossed just about $6.8 million in 2000 theaters over the weekend, has a stronger run abroad as well as in the DVD market, it could be another embarrassing failure for Kapur.

Despite a powerhouse performance by Cate Blanchett [Images] and insistent talk that she would get an Oscar nomination, the historical film opened at number six on the North American box office chart.

Besides, the film received mixed reviews. Elizabeth, which released over eight years ago, had received far better reviews than the new film, and it had grossed a healthy $35 million in North America, apart from getting major Oscar nominations.

Among the more critical reviews was the one in Time magazine.

'Elizabeth: The Golden Age?,' wondered reviewer. 'Better, perhaps, to call this Elizabeth: The Frenzied Years -- especially since the film's director, Shekhar Kapur, suffers from an advanced case of restless camera syndrome. Tracking shots, twisting boom shots, placements that are either radically high or low -- they all betoken a director who doesn't trust his material.'

But director Wes Anderson had plenty to smile, as The Darjeeling Limited enjoyed another solid weekend in limited release. The Darjeeling Limited, which in its third weekend, took its total to $2.1 million.