Home > Movies > Bollywood News

Now, listen to Gandhiji's autobiography!

rediff Entertainment Bureau | October 01, 2007 20:18 IST



Here's a first. Only on rediff.com!

On the occasion of Gandhi Jayanti, we are proud to present an exclusive preview of an audiobook on the autobiography of M K Gandhi, The Story Of My Experiments With Truth.

Textured with songs and a background score, the audio book features Shekhar Kapur [Images] as the voice of Gandhi, and Nandita Das. It allows listeners to get a deeper understanding of the Father of the Nation.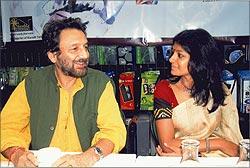 Written after his release from prison, and first published in English in 1927, it documentes his spiritual journey amidst the political strife of his times.
As a special offer, the audio book will be available for download at a nominal charge of Rs 50 right here!
Users will also be able to buy the CD and the book for a special price of Rs 150, inclusive of shipping in India.