Abhi-Ash visit Hyderabad dargah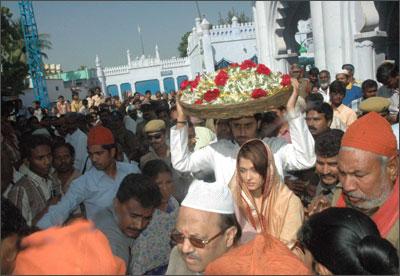 Abhishek Bachchan and Aishwarya Rai [Images] offered prayers at a dargah in a town called Kadapa, about 400 kms from Hyderabad, in Andhra Pradesh.
They were accompanied by Jaya Bachchan and family friend and Samajwadi Party leader Amar Singh, who also visited and prayed at the Ameen Peer Dargah -- also known as Pedda Dargah.
They reached the town in a helicopter from Bangalore at around 9 am today, police said.
Abhishek and Aishwarya, who got married in April this year, offered a chadar and conducted special prayers at the dargah, which is believed to have been established by a spiritual leader belonging to the clan of Prophet Mohammad.
A large number of Bachchan fans and curious onlookers gathered at the dargah to have a glimpse of the star couple. Amar Singh's family and the Bachchans left for Bangalore after spending about three hours at the dargah.
The Pedda Dargah is visited by a number of Bollywood personalities and politicians. Music director A R Rahman is one of its frequent visitors.
Text: PTI | Photograph: Snaps India