Home > Movies > Bollywood News

'Rahman's music doesn't seduce immediately'

Arthur J Pais | June 14, 2007 18:05 IST



A R Rahman appeals to a wide variety of people for different reasons. Not everyone likes to work with him, though. Some filmmakers whisper that he takes too much time to get a song ready but there are also many who say that he can compose and record a song within half a day.

For every critic who swears that Rahman is a two-note composer who is more interested in the sound (he's a mere sound engineer, said one detractor), there are many who hail him as an innovator.

"I admire the way he understands the director's requirement," says Mani Ratnam, who gave the composer and singer a break in Roja [Images] about 15 years ago. Together, they have worked for over half-a-dozen films like Dil Se and Guru.

Aishwarya Rai [Images], who got to sing some of Rahman's compositions on the screen very early in her career in the Tamil film Iruvar and then recently in Guru, says that the best thing about Rahman's compositions is that they don't seduce you immediately.

"You must give you the permission for them to let you grow on you," she says. "And then see if you can get them out of your mind."

Composer and producer of such record smashing musicals as The Phantom of the Opera, Andrew Lloyd Webber who gave Rahman a break in his Bombay Dreams over five years ago, remains a great admirer.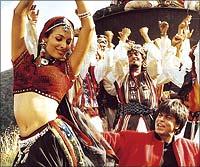 "I think he has an incredible tone of voice," says Lloyd Webber. "I have seen many Bollywood films, but what he manages to do is quite unique -- he keeps it very much Indian. For me, as a Westerner, I can always recognise his music because it has a tone of voice of its own. It's very definitely Indian, yet it has an appeal which will go right across the world."
For writer and lyricist Vairamuthu who has worked with Rahman in several Tamil films, the 41-year-old composer's passion is unbeatable. He said in an interview recently, 'The total submission of his life for the cause of music; his thirst for creating not any chaff but only grains appeals to me the most!'
The filmmaker Subhash Ghai [Images] who got an amazing number of fresh melodies from Rahman in the film Taal [Images] says the composer can never stop surprising a producer or a director -- and, of course, the listener.
"We have had arguments, long discussions and big differences while we produced the music of Taal," says Ghai. "But who could have come out with that unique score?"
In another interview, Ghai said: 'Rahman has a strange kind of spirituality within which he lives. He knows technique, has a rare sense of sound and a great ear. He has a sharp intellect and understands not just the sound of music and quality of voice but also the market forces and how to move from post to post. That is the need of the hour. I love him both as a composer and as a friend. He is very sweet to talk to. The only thing is you talk and he listens!'
Many singers, including Kunal Ganjawala, have said that Rahman has them rehearse without raising a fuss, and the song is okayed within hours. He inspires singers but never overwhelms them, Ganjawala said.
"Sometimes, I wondered whether he is too nice a person to tell a singer that he did not like the way the number was sung," Ganjawala said. "You secretly fear that he is not going to use the song!"
Singer Harini said a few years ago: 'The best part about singing for Rahman is the freedom he gives the singer. Even for my first song he let me sing the way I was comfortable, even though I was a nobody then.'
Lyricist Gulzar [Images], who has worked with composers such as S D Burman, Salil Chowdhury and Rahul Dev Burman, says working with Rahman in such films as Dil Se and Guru has meant a lot to his writing career.
'He is a milestone in Hindi film music,' says Gulzar who is older than Rahman by about three decades. 'He has single-handedly changed the sound of music in the movies. He has broken the mukhda-antara-mukhda scheme of composition and replaced the traditional patterns of tuning. He can set tune to a near-identical rhythm in two different songs. But these songs will still catch the listener off-guard even when played immediately after each other. Instead of having the fixed format, the song can also run like free verse with his kind of music.'
Though Rahman gave up his formal education following his father R K Sekhar's premature death at age 40, he would not give up his musical aspirations. He worked for a number of top composers in the South, especially M S Viswanathan, as a musician. Rahman also composed music for many jingles in his late teens.
Those who have known him from his childhood still remember the early signs of his musical gift.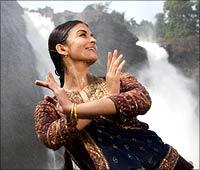 'Filmnews' Anandan, a well-known publicist, remembered in an interview some years ago how Rahman was initiated into the world of films while he was still a toddler and was called Dilip Kumar. The family embraced Islam after Sekhar's death and his widow's marriage to a Muslim businessman.
Anandan remembered Rahman going to the film studios with his father Sekhar who was an assistant music director in Malayalam films.
'Once a music director overheard the four-year-old trying out a tune on a harmonium,' Anandan said. 'He quickly spread a cloth over the keys. Undaunted, the child repeated the tune, this time running his fingers confidently over the cloth. Who would have thought then that the boy would scale such heights?'
Rahman says he has a simple explanation for his success. "I believe that every individual, even an atom, can move only with the will of God," he offers. "I don't take credit for doing all this. If I did, then I would fall flat."