Home > Movies > Bollywood News

Filmmakers divided over Shilpa's future

Syed Firdaus Ashraf | January 29, 2007 19:53 IST


| | |
| --- | --- |
| Shilpa Shetty | |
| | |
| | |
| | |
| | |
| | |
| | |
After being crowned the winner of British reality television show Celebrity Big Brother, one would think that Shilpa Shetty's career would skyrocket.
However, her success has led to speculation about her future in the film industry.
Bollywood filmmakers are divided over the future of Shilpa Shetty as they feel it is difficult to predict where her career would move next.
Complete Coverage: The Shilpa Shetty Controversy
Some feel that her popularity will only rise, while others feel it will benefit Shilpa more in endorsement terms and Hollywood assignments, rather than films in India.
"I think Shilpa will get more Hollywood than Bollywood films. But yes, I feel she will end up getting more endorsements in India for sure," said Komal Nahta, film trade analyst.
Shilpa's career hit an all time low in the last six years as none of her film made it at the box office. Her biggest hit was Dhadkan. Lately, she has been seen doing only item numbers.  
"Box office success is immaterial to me. I do films only for creative satisfaction," Shilpa Shetty told rediff.com before the 2004 release of Phir Milenge. Though Abhishek Bachchan's career picked up after the film, Shilpa had no takers despite winning critical acclaim.
She was seen in Dus where her role was lost among the presence of heroes like Sanjay Dutt, Abhishek and Zayed Khan. Then came Fareb, her last film that disappeared without a trace at the box office.
However, Suneel Darshan, who directed her in Jaanwar said, "Shilpa is a very good actress and by winning Big Brother she has got her due. Her career will definitely get a boost after winning the show."
Shilpa made her debut at the age of 17 in Baazigar opposite Shah Rukh Khan, but never got an opportunity to prove her acting.
At 31, and with more than three dozen films, she is best remembered for her role in Dhadkan with Suniel Shetty and Akshay Kumar than any other film.
"There have been many times that people have written me off. Five years ago, I was completely written off. Then there was a Dhadkan and I came back," she told rediff.com.
"I didn't have a release for a year and people wondered where I had disappeared. I always feel there is a lull before the storm. I want to be remembered as an actress before quitting," Shilpa said before the release of her film Garv.
Shilpa's career has dwindled so much that she has only two films in hand right now, Metro and Apne.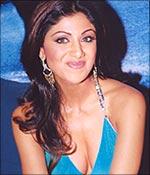 "Her height is one disadvantage which limits her to select heroes," said trade analyst Vinod Mirani.
"She did successful films with Akshay Kumar, but their pairing has been tried and tested. So there is a real problem for her in getting heroes, and therefore I feel she will best end up in getting good product endorsements," added Mirani.
Deepak Tijori, the director of Fareb, said the Bollywood market is completely different from that of Hollywood.
"In our market an actor is best remembered for his last film. Shilpa will definitely get more films abroad than in India," said Tijori.
Anurag Basu, director of Metro said, "I am hopeful for Shilpa because people will now take her seriously in India. She thought she would come out in the first round and told me to be ready for shoot by January 15, but she hung on and won."
"I am sure my film will get a good market in UK when it is released in April. Shilpa is already in demand in UK and I am hopeful the film will work for all of us because of her new popularity," concluded Basu.