Home > Movies > Bollywood News

'There can't be a better friend than Salman'

Priyanka Jain | January 23, 2007 13:04 IST



A comeback trail is always hard. Govinda gifted Bhaagam Bhaag to fans, and is now heading into mega-release territory with Nikhil Advani's Salaam-E-Ishq.

Though his role in Bhaagam Bhaag is almost a glorified special appearance, Govinda had his moments. Brushing aside rumours that his part was edited by Akshay Kumar, the actor says,"I am grateful that Akshay Kumar agreed to work with me. All I wanted was to comeback with a big film. When Suniel Shetty offered me his role and director Priyadarshan accepted me, I had no business bothering about the length and breadth of the role. God willing, that too will happen later. I am in no hurry now."

In Salaam-e-Ishq he plays a taxi driver. Govinda had enacted the role of a cabbie earlier in Albela where he was paired opposite Aishwarya Rai. Though not a box office success, that film created news due to the unconventional pairing.

This time around Govinda the taxi driver romances South African actress Shannon Esrechowitz who plays a tourist in the film. So how does the seemingly illiterate cabbie played by Govinda manage to fall in love with a foreigner? "Love is universal. Despite the language barrier, my character falls in love and is able to communicate with the girl. The only problem is that the tourist I fall in love with has come to India looking for someone else's love -- that of her boyfriend's. My co-actor Shannon has brought energy to the role and it has surely rubbed off on me too."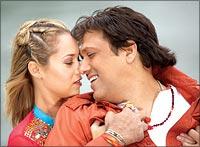 Govinda is infamous for being unprofessional, arriving late on the sets and throwing many a tantrum. Now, after losing a good five years, Govinda seems to have learnt his lessons and is reportedly punctual on the sets these days. "I am making an extra effort to prove myself this time around. I don't want to give anyone a chance to complain. I am trying to manage time efficiently and come to work on time. I am also trying to reduce weight. I have already lost 10 kgs. I need to cut down 10 more. I have got this opportunity to work again after a lot of efforts and I don't want to disappoint anyone who has invested faith in me," the actor says.

For now, he is already in Dubai working on his third film, long time collaborator David Dhawan's Partner. In Partner, Govinda is working with Salman Khan for the first time. Though Salman and Govinda are both part of Nikhil Advani's forthcoming Salaam-e-Ishq, they appear in different tracks there. "After a series of flops, a bad political career, when I was completely down and out from the film industry and had no work Salman bailed me out. There cannot be a better friend than Salman who is always there in your time of need. I am very happy that I will finally get a chance to work with him."

In the Bollywood race again, Govinda seems to have forgotten about his political commitments. He won't be campaigning for the upcoming Mumbai elections, as he only returns to the city in early February.