Home > Movies > Bollywood News

How Bollywood now gets to eat on time

rediff Entertainment Bureau | February 27, 2007 16:58 IST


| | |
| --- | --- |
| Hrithik Roshan | |
| | |
| | |
| | |
| | |
| | |
| | |
After Saif Ali Khan's illness, if you think our actors are stressed out, then you need to look back to the past when unruly schedules used to be order of the day and producers spent sleepless nights getting dates from them.
On an average, any popular actor worked in three shifts, causing undue pressure on his life, and eventual delays in the filmmaking process.
Says Ashok Vashodia, secretary of Hrithik Roshan, "I used to work for Juhi Chawla in the 1990s. My life used to be very stressful because it was a tough task to give actors' dates to producers. There was a time when Juhi was doing four films at a time, and I had to maintain a very tight schedule."
After Qayamat Se Qayamat Tak became a hit in 1988, Juhi did a dozen films in just two years.
So did all three Khans -- Aamir, Shah Rukh and Salman signed on for half a dozen films each after their Qayamat Se Qayamat Tak, Raju Ban Gaya Gentleman and Maine Pyaar Kiya became hits, respectively.
In the 1990s, the two heroes who did the maximum number of films were Mithun Chakraborty and Govinda. Sridevi was the top slotted heroine of 1980s.
Hari Singh, business manager of Sridevi then, said, "Sridevi used to shoot for three films a day. She would begin her day at 6 am and pack up by 1 pm. She used to get different looks for each film, and always looked fresh."
Sridevi, Singh continues, used to enjoy work. "She used to get into her character and never looked stressed out in any of her films," he adds.
Things got so bad for the industry that in 1992, various Bollywood producers united to declare that no actor would do more than five films a year because everyone started suffering losses.
"There was non-availability of actors many times as they were always on one or the other film sets," recalls Vashodia.
However, the economics of filmmaking started changing by the late 1990s as the industry started getting increasingly organised.
Another important change that took place was the fading of the old guard. A lot of veteran producers and directors either passed away or simply stopped making films because their films were not doing well at the box office.
Asked how does he compare today's life of actors from 10 years ago, Vashodia says, "Today, the actors are very focussed in their work. They want to do quality work and not quantity work."
In 1986 when Govinda made it big with his film Ilzaam, he signed as much as 12 films instantly. He was doing three shifts at a time, and there was over exertion all the time.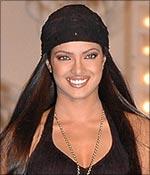 "I never knew how long my fame as an actor would last. So, I signed as many films as I could when my first film clicked," Govinda had said in the programme Jeena Isi Ka Naam Hai on Zee TV.
So how come actors don't run from one set to another?
Chand Mishra, secretary of Raveena Tandon and Priyanka Chopra, says, "Today, the actors are more secure compared to earlier days. The industry has not seen a boom of upcoming new stars for very long. So all the established actors know that they are here to stay."
He adds, "Times have also changed. The actors today want to be selective and do good work. They will rather sit and wait for a good offer rather than jump into doing anything they get."
This is one of the reasons that number of films being made every year is dropping and lesser and lesser films are being made every year. The actors today are more interested in stage shows, ribbon cutting functions, attending birthday parties and, of course, endorsing different products.
Once you give a hit, your career is secure for the next three years; there is, Bollywood tradition dictates, no one to displace you.
Concludes Vashodia, "As Hrithik's secretary today, I have more time in hand. He is doing one film at a time and things are easy for me. I get time for a morning walk and have my meals on time. Earlier, I could only dream of such situations."