The doubts and surprises started even before the
Oscar ceremony
was half way through, and the big announcements were to unroll slowly in the next 90 minutes.
Perhaps hardly anyone doubted that Deepa Mehta's Water is a much loved film but did anyone really expect her Canadian entry to win the Oscar for Best Foreign Language film? And that too overriding the better received political fable Pan's Labyrinth? The latter is a more popular film, too. While Water had grossed $3.5 million in America, its Mexican competitor had collected a strong $32 million by the Oscar day on February 25 and it is still playing in some 500 theatres.
Earlier, when Little Miss Sunshine, the quirky low budget film about a dysfunctional family that has grossed an impressive $60 million in America, won the Oscar for original screenplay for first-time screenwriter Michael Arndt, there were a few gasps in the auditorium. For, there were higher expectations indeed for Pan's Labyrinth.
But the biggest shock of the evening must have come when the Mexican entry was humbled by The Lives of Others, the German entry. The latter, a riveting drama of internal espionage, has received some of the best reviews of last 12 months. It has just started its run in America earning an impressive $1.8 million in three weeks. And yet, it was not on many Oscar prediction lists.
Even the film's director Florian Henckel Donnersmarck looked surprised by his victory. About a month before the Oscars,
he had told rediff.com
that though his film -- about the communist surveillance system in the former East Germany -- was a big success in Germany, Austria and a few European countries, he was wondered how Americans would react to it.
"I don't want them to think of it just as a political film," he had said. "It is also a film anyone in any country who knows anything about dictatorship and arbitrary rule can understand," he added. "It is a film about redemptive power, about people doing decent things despite enormous risk to their careers and lives. Politics is very much in the background but it is a film about human values."
His film, which shows the change of heart in a hardened Communist domestic spy, appealed more to the Oscar voters than Pan's Labyrinth in which a girl living in a remote region of the country in the 1940s sees the victorious Fascists fighting guerilla resistance. She escapes into a fantasy world to forget the harsh reality around her.
As the towering, 30-plus Donnersmarck, who made his feature film debut with The Lives Of Others, walked to the dais to receive his Oscar, viewers must have started wondering if the other favoured sons and daughters would win at all. For instance, will Martin Scorsese, who has been nominated six times for direction, finally take home his much deserved best director statute for the mob drama The Departed? And will the Departed win the best picture Oscar? Or would there be a startling upset with Little Miss Sunshine taking home the trophy?
The doubts started increasing when the much favoured Eddie Murphy playing a musician in Dreamgirls lost in the best supporting actor category to veteran Alan Arkin, who plays an oddball but endearing grandfather in Little Miss Sunshine.
In the final reckoning, The Departed would win not only for Scorsese but also for the best screenplay and editing, and most important for the best picture.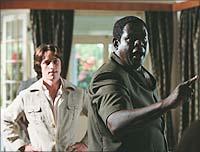 The other favourite Forest Whitaker, who has been in Hollywood for over 15 years, took his first Oscar for playing with utter conviction the Ugandan dictator Idi Amin in
The Last King of Scotland.
Not to forget Helen Mirren who took the crown for doing a great job of playing the beleaguered British Queen in the aftermath of Princess Diana's death in the aptly titled
The
Queen.
Jennifer Hudson, who failed to reach the top in the
American Idol,
took the best supporting actress Oscar for playing a soul singer in
Dreamgirls
. It was also her first movie role.    
The evening heard many graceful comments from star winners. But one that stood long in my mind was what Whitaker said.
"When I was a kid the only way I saw movies was from the back seat of my family's car at the drive-in movie," he said softly fighting his tears. "It wasn't my reality to think I would be acting in movies, so receiving this honour tonight tells me it's possible. It is possible for a kid from east Texas, raised in south-central LA and Carson, who believes in his dreams, commits himself to them with his heart, to touch them and to have them happen."
If there is an Oscar for a heartfelt, dignified and low intensity reaction, Whitaker would have taken it home, along with his acting Oscar.
Compared to the major Oscar winners, The Last King had made a tiny dent into the American box-office. The $6 million film, considered a tough sale because it is set in a country that not many Americans do not care about, had grossed about $14 million prior to the Oscars, half of that money being made after its Oscar nomination was announced over a month ago. On the other hand, The Queen, which was also released the same day as The Last King 22 weeks ago, has made about $52 million. The Departed was the most successful of all the winners. It has taken some $132 million in North America, over $12 million of it coming after its Oscar nominations. The film is now available on DVD.
And yet, despite its low box office profile, Whitaker's performance in The Last King  was so riveting and stirring that the Oscar voters embraced him.
Alan Arkin wasn't much behind Whitaker in making a dignified speech. "More than anything, I'm deeply moved by the open-hearted appreciation our small film has received, which in these fragmented times speaks so openly of the possibility of innocence, growth and connection," he said.