Home > Movies > Bollywood News

Bhansali's Kontroversial Koffee remarks

Patcy N | February 26, 2007 15:36 IST


| | |
| --- | --- |
| Kunal Kohli | |
| | |
| | |
| | |
| | |
| | |
| | |
Karan Johar's chat show Koffee With Karan saw interesting guests last weekend.
Director Sanjay Leela Bhansali and actress Mallika Sherawat made the show come alive with their frank remarks.
But the remark that really got us came from Bhansali during the rapid fire round. Bhansali was asked who he thought was the most overrated director, and he answered without a pause, "Kunal Kohli, Kunal Kohli, Kunal Kohli."
Not long before he made that remark, Bhansali also stated that Kohli's film Fanaa was bad.
We could not help but put the question to Kohli himself. So what he think about Bansali's frankness? As soon as we asked him that, Kohli started laughing.
At first, he refused to react to the statement. A little cajoling later, he said, "When Bhansali said that, I laughed. Everyone is entitled to their opinion. Bhansali is a big filmmaker; he has the right to say what he wants. That's okay with me. I am not going to start reacting to anything just because someone said something. His comments don't affect me. It doesn't change my life even for a second. It is just that when he said it, I laughed."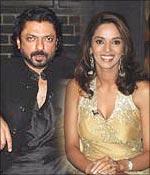 Kohli added that it did not offend him as Bhansali has not seen Lage Raho Munnabhai or Rang De Basanti. "He has not seen any film except Fanna," he laughed. "I think I affect his life more than he affects mine. I have nothing against him."
Kohli, meanwhile, like Bhansali's Hum Dil De Chuke Sanam. "I hope Saanwariya will be good because I like Ranbir (Kapoor)," he said.
It's quite clear Bhansali's opinion does not matter to Kohli. So who's opinion Kohli does hold in high regard? "I would have been affected if my producer, actor or audience had said something. It doesn't matter if anyone else from the industry says something, or what the critics say," he said.
"If I have got box office success, then I know I have done something right," he continued.
When Kohli made Mujhse Dosti Karoge (Hrithik Roshan, Kareena Kapoor and Rani Mukerji) in 2002, the box office did not support him. But when he made Hum Tum (Saif Ali Khan and Rani) in 2004 and Fanna last year, he knew the public was with him because both films did well. 
"It is important that the public has liked the films. Whether X, Y or Z don't like it, it really doesn't matter or change my life in any way. The film has been made, it has been successful, and I have moved on."
Any last words for Bhansali? "I wish Bhansali's film is a big hit because I like Ranbir. That's all I have to say to him."