Animation seems to be the next big thing in Indian movies.
Hollywood may have something to do with it, what with Cars and Happy Feet being smash hits across the globe. And Bollywood does not want to be left behind.
Here's a look at the upcoming animation movie projects in India.
Ghatothkach: Master of Magic
Shemaroo Entertainment will enter the world of animation with Ghatothkach: Master Of Magic, a two-dimensional musical. The film will be about Ghatothkach and his escapades, and will have magic, action, romance, comedy, fantasy and of course, music.
Singeetam Srinivasa Rao, who directed the silent film Pushpak starring Kamal Haasan, will helm this film. Ghatothkach will release this year.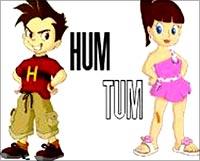 Hum and Tum
Yash Raj Films introduced animation in their films with Hum Tum, starring Saif Ali Khan and Rani Mukerji. Saif, who played a cartoonist, had created animated characters called Hum and Tum, who would always argue with each other.
Now, there is no official confirmation from Yash Raj, but word has it that Jugal Hansraj will direct an animation film under their banner.
Apparently, Hum and Tum will make appearances here, and Saif is likely to lend his voice.
Rajnikant's animation film
Adlabs has announced an animation film with superstar Rajnikant playing the lead. It will also be produced by Rajni's wife Latha. Word has it that Rajni's youngest daughter Soundarya will direct the film.
Another animation film called Ginny And Jonny, based on the apparel brand with the same name, will also be made with Adlabs.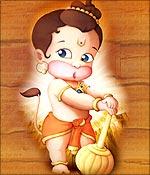 Hanuman 2
Children loved the animanted film Hanuman, and made it a box-office hit. So, producers Percept Picture Company have decided to make a sequel.
The new film will be directed by Anurag Kashyap. That's quite a jump for a director who has made dark films like Black Friday (on the 1993 bomb blasts) and Paanch (a film about a group of struggling musicians).
Lord Krishna
B R Films, the makers of movies like Baghban and Baabul, have also made popular serials like Mahabharata in the late 1980s and the more recent Virasaat.
Now, we hear the company is looking at the animation business seriously. They plan to make an animation film on Lord Krishna. We're waiting for the announcement.
Dharma Productions
Karan Johar is the latest to jump onto the animation bandwagon. After making family dramas like Kuch Kuch Hota Hai, Kabhi Khushi Kabhie Gham and Kabhi Alvida Naa Kehna, Karan will direct an animated film.
Like his movies, this film will have all the usual ingredients -- songs, dances and emotions. It is expected to go on the floors this June.