Home > Movies > Bollywood News

Who is the gangster threatening SRK?

The Rediff Entertainment Bureau | December 12, 2007 14:11 IST


| | |
| --- | --- |
| Bunty Pandey | |
| | |
| | |
| | |
| | |
| | |
| | |
Just when one thought the underworld was finally making an exit from the Hindi film industry, comes the news about a new gangster in town called Bunty Pandey, short for Prakash Narayan Pandey.
Apparently, Pandey telephoned Shah Rukh Khan [Images] to demand Rs 2 crore from him. But it is learnt from police sources that the actor refused to take his call. Pandey then sent his henchmen to Shah Rukh's home, Mannat, in Bandra, north-west Mumbai, to threaten him with dire consequences if he did not cough up the money.
Shah Rukh immediately informed the police about the threat.
Pandey apparently decided to go after the superstar after his latest film, Om Shanti Om, raked in profits at the box office. Advertisements in newspapers recently proclaimed that OSO was the biggest grosser in the history of Hindi cinema, but the earnings were not mentioned.
Film trade sources believe the amount would be close to Rs 200 crore.
So who is this Bunty Pandey?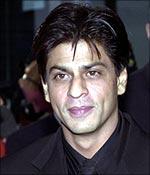 Pandey hails from Uttarakhand and was based in Mumbai for more than a decade. He started off in gangster Chota Rajan's gang, and operated in Mumbai on his behalf. He was involved in the kidnapping of two Delhi-based businessmen's sons in 2004. Pandey is also known to have caused havoc in the trading community of Gujarat.

However, when the Mumbai police tightened its noose on gangsters, Pandey fled the country. The police believe he is based in Bangkok but there is no confirmation on this.

He left Rajan's gang after he was injured in a shootout in Bangkok by Dawood Ibrahim's men.

On its web site, the Mumbai police has named Pandey as the 36th most wanted person but have not listed his Mumbai address, as is common practice. Unlike most gangsters, the Mumbai police have very little information about him.

The only information the police had shared with the media earlier was about his girlfriend, Priya Rajput (Chandralakha Dhansingh Rajput) who was also involved in extortions. She was arrested in 2002 when she threatened a bar owner in Ghatkopar, in south-central Mumbai.

The last time Pandey's name was in the news was when he shot Devidas Choughle, a Nationalist Congress Party corporator, last month.

So far he has kept out of underworld activities in Mumbai because of the presence of heavyweight gangsters like Dawood Ibrahim [Images], Rajan and his one-time close associate Ravi Pujari, whose men tried to kill filmmaker Mahesh Bhatt [Images].

The Mumbai police believe Pandey seeks to create terror by threatening Shah Rukh Khan so that he can re-establish himself, like Abu Salem [Images]. It may be recalled that Salem was the first underworld don to threaten SRK, which had deeply  disturbed the actor.

Pandey's photograph courtesy: Mumbai Police web site