Home > Movies > Report

An Oscar-worthy Atonement



Arthur J Pais in New York | December 06, 2007 16:21 IST



Thirteen-year-old fledgling writer Briony Tallis (Saoirse Ronan) and her family live a life of wealth and privilege in an English mansion a few years away from World War II.

 

On the warmest day of the year, the country estate takes on a strange atmosphere, stoking Briony's vivid imagination. Robbie Turner (James McAvoy), the educated son of the family's housekeeper, carries a torch for Briony's headstrong older sister Cecilia (Keira. Knightley).

 

Cecilia, he hopes, has comparable feelings; all it will take is one spark for this relationship to flare up. In Ian McEwan's bestselling novel Atonement which was No.1 in many countries five years ago, Briony -- who has a crush on Robbie -- suddenly accuses him of a crime. She thinks she can take him away from Celia. But the unexpected happens. Cecilia and Robbie declare their love for each other as he is arrested.

 

The acclaimed novel is now also film heavily tipped for major Oscar nomination. It opens in North America on Friday following a solid run in the United Kingdom where it is heading for a $30 million final gross.

 

The title refers to how Briony seeks forgiveness for her act.

 

One of the many reasons why the film can become a worldwide hit is that it can move the audiences by its poignant story and yet flaunt its class. The melodrama is quite restrained. And the handsome production also pleases the senses. 

 

The film reunites director Joe Wright and Knightley following their collaboration in the acclaimed smash hit Pride & Prejudice. The film also boasts of a brief but terrific appearance by veteran Vanessa Redgrave that could fetch the Oscar winner yet another Oscar nomination.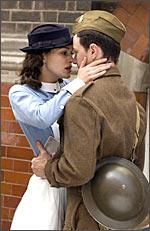 This is the second film directed by Wright. And it received some of the best reviews of the year across the United Kingdom..
'What a clever, ambitious, compassionate picture it is; what a success for Joe Wright and for Knightley and McAvoy,' wrote PeterBradshaw in the much respected daily Guardian. 'It's a film which aims at big ideas, and it treats us like grownups.' He gave the film four stars out of  five.
He added: 'With a masterly adaptation by Christopher Hampton, strong central performances and fine cinematography, Ian McEwan's novel has been brought thrillingly to the screen.'
Wright has said in interviews that he could not have made the film but for an early commitment by Knightley.
'I felt that Keira, who is such an intuitive actress, was ready to play Cecilia because the truth is that the part is a character role rather than that of the pretty leading lady,' Wright says in the production notes of the film. 'It's a very complex role; Cecilia is not a particularly likable person to start with, but she is redeemed by her love of Robbie and by his of her.'
Knightley, who has also starred in the Pirates of the Caribbean series each of which cost far more than the $30 million Atonement says, she would always make time for a director such as Wright.
'I had a great experience on Pride & Prejudice; Joe is a sensational director,' she says. 'He makes sure that every actor sees the story from their character's point of view. After reading Christopher Hampton's beautiful script, I knew I wanted to play Cecilia.'
Wright says Knightley is a bold and giving actress. 'Keira was not afraid of playing Cecilia as cold and difficult, and awkward in her own skin,' he explains, 'She was brave in taking this role, since many actors are terrified of being disliked as the characters they play on-screen. The resulting performance is, I believe, her boldest and strongest to date."
For Knightley, there was a strong appeal in playing a character so different than any she has played in her decade-old career. 'The reason I liked this character is because she is a woman, of the kind Bette Davis might have played. She knows who she is, yet she doesn't know which direction to go in, so she's quite conflicted. She doesn't realize that actually she fancies Robbie; she's grown up with him, and at first won't admit that there's anything between them beyond a kind of brother-and-sister relationship. But, there is, and when we meet them they're on the brink.'
McAvoy who plays Robbie, saw the story as 'epic, romantic, and really about what it is to be a human being. It affected -- and still affects -- me hugely, and I hope it will do the same to audiences.'
 

Atonement also explores the truth of how we are at our best when we are being attacked, he says, 'and Robbie Turner is forced to fight on two fronts.'
Wright adds, 'I'd first seen James in a play about seven years ago, and I could tell how good he was. I'd offered him parts twice before, and this third time was the charm. James has working-class roots, and that was very important; Robbie's story is that of a working-class boy whose life is often at the mercy of the snobbery of an upper class family. James also has a deep soul, and isn't afraid to show it. The character is described by Ian McEwan as having 'eyes of optimism,' and James has those. When he smiles, you smile; when he cries, you cry.'
But the crying was done so discreetly, the actor who gained world attention in The Last King of Scotland, notes.
'Joe would tell me, 'Don't beg them to cry,' meaning, the audience,' he explains. ' Robbie was one of the most difficult characters I've ever played, because he's very straight-ahead. In the 1935 scenes, the family doesn't see him as one of them, yet he doesn't have a chip on his shoulder. Joe was very keen not to be manipulative with the audience, so he emphasised underplaying. So, later in the story, when Robbie explodes, you really feel it.'
'
As a director, Joe knows how to choreograph his scenes,' the actor continues. 'He made me a better actor on Atonement."
Knightley adds: 'Joe would direct us to deliver our lines swiftly; he wanted the dialogue scenes to play as they did in classic British movies. He likened it to rain pattering down, or bullets firing. Doing that informed our performances and showed us who our characters were.'