Home > Movies > Bollywood News

Simi Garewal gives Karz the thumbs up

Swati R Chaudhary | August 23, 2007 14:35 IST


| | |
| --- | --- |
| Himesh Reshammiya | |
| | |
| | |
| | |
| | |
| | |
| | |
The latest film to be remade is Subhash Ghai's [Images] 1980's reincarnation drama Karz, with Himesh Reshammiya taking over from Rishi Kapoor.
Contrary to Ghai's Karz starring Rishi, Tina Munim, Simi Garewal, Pran, Raj Kiran, Durga Khote and Premnath, the new film will be a modern day version. 
With Satish Kaushik (of Tere Naam fame) wielding the microphone, the film will be produced by T-Series. Sushmita Sen [Images] is rumoured to immortalise Simi Garewal's role in Kaushik's film.
Simi, who played the conniving, scheming Kamini in the revenge-rebirth saga, is more than happy with Kaushik's idea of remaking the film.
"Frankly, I wasn't surprised because there are so many films being remade," Simi says. "Considering today's scenario, Karz is likely to work. It incorporated various elements like reincarnation, revenge, the rock star-singer image etc. It is a story that works for every generation. It is a film that can continue for ages. It can be remade even after 20 years from now."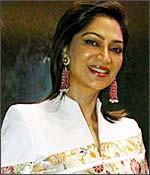 It's a lesser-known fact that Subhash Ghai had had a tough time convincing Simi for the role. Simi had qualms about playing a negative character for the first time in her career. "I was reluctant to do this role since it was negative. I refused it twice. But Subhashji was very persistent and very persuasive for a whole year. He said he wouldn't make the film without me. He made some changes to my role and I finally gave in," she reminisces.
"I had never played a negative character before so it wasn't easy. I decided I wouldn't play it 'negatively', that is not 'vampishly' but just as a normal person who does things that are wrong and is subsequently tormented from within. I think that worked," she adds.
Simi further fondly recounts her experiences. "It was nice working with Subhashji, he was so charged all through. And of course my friend Rishi, who I had starred with in his first film Mera Naam Joker. By the time Karz happened, Rishi was a huge star and had become a very fine actor."
Simi considers Kamini's role as a great opportunity for her to exhibit her versatility as an actor. She affirms that she wasn't apprehensive about playing someone twice her age. "Its not as if the role was entirely of someone twice my age," she says. "Kamini is almost a teenager in the beginning; she ages later when Rishi comes back 'reborn'. So that gave me a lot of scope to show my range as an actor. It is something most actors long for."
And is she game for remakes? "It's not like I am in favour or against classics being re-interpreted. I am simply curious to see the remake of Karz and I get the feeling that it will work really well," she replies.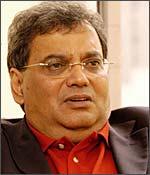 Simi is optimistic about Reshammiya's acting expertise and feels that he'll outdo his first performance in Aap Kaa Surroor). "In the remake, I guess Himesh would play himself -- a rock star! And I am sure he'll be able to pull it off. I would predict his performance in Karz would get even better than his first. The success of Aap Kaa Surroor would have given him confidence and confidence is a key element for a performer."
Simi is also effusive in her praise for Sushmita Sen.
"Kamini's role is immensely exciting and very challenging. Any actress with some experience can do it because the character is such that it requires an actress with some body of work and experience behind her.
"And if it is Sushmita Sen playing the role, then it will be brilliant. I really admire her. She can carry off anything with considerable flair. I think she is a wonderful actor with a strong screen presence. I am sure she will do a great job," she gushes adding, "It also depends on the director's handling of the role and script. An actor always brings her own personality to a role and Sush would do the same."
While Laxmikant-Pyarelal scored the music for the original, Kaushik is believed to be floored by Reshammiya's novel compositions.
Simi shortlists her favourite tracks from the original. "I think all the songs were fabulous. Even today when I go to an award or public function, the band starts playing the theme tune (when Kamini kills her husband). It's still so popular. It's difficult to choose one track but I like the picturisation of Ek Hasina Thi the best."