Home > Movies > Bollywood News

Toronto loves Lage Raho Munnabhai

Arthur J Pais in Toronto | September 14, 2006 14:53 IST



Karan Johar's mega hit Kabhi Alvida Naa Kehna drew an impressive 1,500 people when it had a gala screening at the Toronto International Film Festival last week.

But the presence of its stars -- Amitabh Bachchan, Shah Rukh Khan and director Johar -- has not given it a boost as it enters its sixth (and perhaps) last week. On the other hand, Lage Raho Munnabhai, which has an excellent second week, is forging ahead. In fact, Arshad Warsi, who stars with Sanjay Dutt, is being warmly welcomed by Bollywood fans here, more for his work in Lage Raho than in Kabul Express, one of the Indian entries at TIFF.

When fans stop him for autographs, they recite dialogues from the movie; some even ask him to recite a line or two. Even Kabir Khan, the director of Kabul Express, is in love with the movie. He says it is one of the most entertaining films he has ever seen. "Films like Munnabhai show that entertainment doesn't have to be crude," he says.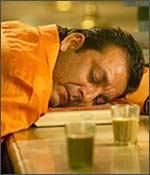 The first mega hit for Sanjay Dutt in North America and the United Kingdom (and the first hit ever for Arshad overseas), the film has grossed a very impressive $1.4 million in 10 days in Canada and America. Unlike most Hindi films that plummet by 50 per cent in the second week, Lage Raho saw a 40 per cent decline. The movie was at 22 on the weekend box-office chart in North America. In Canada alone, it stood at the 12th spot.

The first film, Munnabhai MBBS, hardly made a dent at the box-office in North America. But, Lage Raho has a good chance of riding past the $2.2 million grossed by Rang De Basanti.
In the United Kingdom, the film came down by just about 35 per cent on its second weekend and at number 15 on the chart, it grossed about $250,000 and took its total to nearly $1 million.

Meanwhile, the newcomer Naksha was a box-office fiasco on both sides of the Atlantic, grossing just about $20,000.

KANK is heading towards $3.25 million in North America and at least $4.1 million in the United Kingdom. It could be a very long time before a Bollywood film beats that record.