Home > Movies > Bollywood News

SRK wins over Brad Pitt

Arthur J Pais in Toronto | September 12, 2006 14:39 IST

Forget Brad Pitt, declared Screen International in its Monday's Toronto International Film Festival special. 'The biggest stars in town were Bollywood movie titans Shah Rukh Khan and Amitabh Bachchan.'

Rani Mukherji could have been on that list too but the actress, who was shooting in New York for the past several weeks, could not get her Canadian visa on time, according to Yash Raj Films.

If one took a look at the hordes of desis, and movie fans from Trindad, Guayana, South Africa, and the Arab countries outside the theatre where Never Say Goodbye (Kabhi Alvida Naa Kehna) had a red carpet gala release, the Screen International comment made perfect sense.

The movie fans at the theatre where Brad Pitt was attending the premiere of his critically acclaimed Babel was miniscule (some 500 people) compared to over 2,000 outside the KANK venue.

But the mainstream publications, which in the past years have run glorious pictures of Lisa Ray and John Abraham (Water), Mallika Sherawat (The Myth) and Padma Lakshmi (tiny role in the little seen The Mistress of the Spices), have been ignoring the Indian star presence at the festival this year.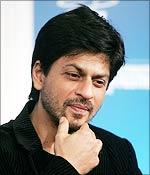 India has eight films (out of over 350 features and documentaries) at the festival. John Abraham is here to promote Kabul Express, with Bipasha Basu giving him company. And Nandita Das is promoting Maati Maay (A Grave-keeper's Tale), one of the most thought-provoking films at the festival.

But the Toronto Star newspaper ran a 400-word piece on page two of its festival special section under the headline, 'Bollywood stars thrill fans'. It also carried a picture of director Karan Johar.

Although many fans had seen KANK during its record-breaking run in the city, they still bought the tickets for the gala.

"We could have brought 1,000 friends to see Amitabh and Shah Rukh if tickets were available," said one teenager who had come with three of her friends.

Another teenager, who said he has seen most of Amitabh films, said, "Shah Rukh is great but Amitabh is like a god," he said smiling broadly. "At 65, he is like a superstar and he doesn't look his age at all."

Many said they had waited for over four hours to get a glimpse of Amitabh and Shah Rukh.

For Shah Rukh, the current Toronto visit makes up in some ways for the loss in 2001 when his home production Asoka was to have a gala screening at the festival. But Shah Rukh and his production team had booked their flight from New York either on September 11 or the next day. In the commotion that followed the terrorist attack on 9/11, the print of Asoka was reportedly misplaced at the airport and the film never made it to the festival.