Home > Movies > Bollywood News

Deepa Mehta, Nandita Das make up

Arthur J Pais in Toronto | September 12, 2006 11:52 IST



Over a lunch in Toronto on Sunday, filmmaker Deepa Mehta and actress Nandita Das hugged each other and decided their fractured relationship is water under the bridge.

Nandita, who had played the lead in Fire and 1947 Earth -- the first two films in Mehta's trilogy -- began with a part in the  last film in the series, Water. But when protestors in Varanasi shut down the production, Nandita, according to Mehta's daughter Devyani Saltzman, even offered to act free in the film whenever Mehta revived the project. She knew that Mehta had lost a lot of money following the cancellation of the shoot.

But when the film shoot restarted two years ago in Sri Lanka, Nandita was not in the film. She, along with Shabana Azmi, were replaced by Lisa Ray and Seema Biswas respectively.

Saltzman revealed in her book Shooting Water: A Memoir of Second Chances, Family, and Filmmaking that Nandita was so hurt that she would not talk to Mehta. It looked like their friendship had ended.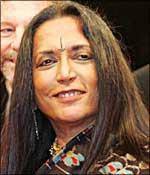 But things changed at the Toronto International Film Festival where Chitra Palekar's Maati Maay, in which Nandita plays lead, has become one of the more honoured of the 250 feature films from more than 60 countries. Nandita has given a compelling performance in this Marathi film (and certainly a career best) as a grave-keeper accused of being a witch.

So who initiated the reunion?

"It does not really matter who took the first step," Nandita said. "It is important to know that both of us wanted the reconciliation. We were looking, I guess, for a good opportunity."

The actress explained that her participation in the first two films in the trilogy was not just professional. "I felt I belonged to the family. I was willing to do anything to help Water being started again," she explained.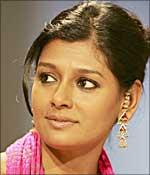 The $2.5 million movie, which ended its run in North America last week and is now available on DVD, has grossed $5.4 million, making it the highest grossing Hindi language film ever. Kabhi Alvida Naa Kehna is headed for a $3.25 million gross, making it all-time top Bollywood grosser in North America.

"I told myself, after all Water is a film and certainly it is not a matter of life and death," Nandita added. "There are times we collect resentment as if we are collecting stamps. And doing so means hurting one's own self. I wanted to end such feelings (towards Deepa Mehta) for good. And I also told myself that as the director of the film, Deepa had every right to choose her cast. It was solely her prerogative to decide who played what."

"Deepa is going to make more fine films," Nandita continued. "And I am always looking for challenging parts. Surely, we will work together again."