Home > Movies > Bollywood News

Annu Kapoor's Antakshari hits US again

Arthur J Pais in New York | September 07, 2006 16:59 IST

When Annu Kapoor hosted the first NRI Antakshari a few years ago in a few American cities, he says he was astounded by the response. Kapoor, who highlights the songs of the 1960s and 1970s, says he could not believe that movie fans in America and Canada had such in-depth knowledge of film songs.

He is back this year too, and Georgy Bhaala, whose Catch the Rhythms organised last year's events, has slated two shows in New York and New Jersey on September 8 and September 9 respectively.

Kapoor, who has also acted in more than 50 films including some of the better films made by Mrinal Sen (Kandhar, 1984) and Rituparno Ghosh (Raincoat, 2004), says music is his first passion, and he seeks to rekindle it in his Antakshari show.

"It is not really about competing," he says. "It is not about getting people to show off how much they know of Hindi film music. I use the show and the participants to honour the finest music composers and lyricists in our movie industry. I sing some of their best songs, and remind the audience how these men have composed gems, particularly the composers S D Burman, Shankar-Jaikishen and Naushad. I have tried to highlight the work of lyricists such as Sahir, Majrooh, Shailendra, Pradeep, Neeraj, Prem Dhawan, Raja Mehdi Ali Khan, Kaifi Azmi and Bharat Vyas."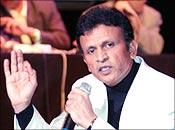 He also makes sure that songs about India's nationalism and freedom struggle are also included in the show. "I try to rekindle the idealism for India in the hearts of Indians everywhere," he adds.
He forbids the participants to use the word Bollywood when he talks of the Hindi film industry. "It is a derogatory word. I even say it is a very cheap word," he says. "I don't know who started using it. Our finest lyricists, composers, artists and directors have worked very hard to create our own kind of films, and I don't know why our industry should be called by that word. Call it the Hindi film industry or the Mumbai film industry," he continues.
He does not include, for the most part, the newer songs because he says he is beholden to the golden hits, and has found hundreds of listeners, not only in India, but also in America who love the songs composed 30 or 40 years ago. Many people in their 20s also love these numbers because they grew up listening to the songs with their parents, he says.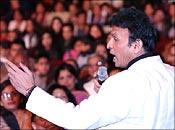 "I am surprised so very often that the participants in the show remind me of a song that was not in my mind," he says with a chuckle. And he surprised that many of those music fans are busy professionals. "Music has continued to be a big passion for them, from their student days in India," he adds.
"I do not have any inclination to fuss over people who wrote silly lyrics or composers who could not come up with original tunes," he says. "They have other shows to go to."