Home > Movies > Bollywood News

Meet the 25-year-old hitmaker

Syed Firdaus Ashraf | October 31, 2006 17:25 IST


| | |
| --- | --- |
| Mohit Suri | |
| | |
| | |
| | |
| | |
| | |
| | |
At 25, one generally forwards applications for jobs, but director Mohit Suri isn't in the same boat.
He meets aspiring actresses, assistant directors and is busy arranging meetings over the phone to recruit new people for his latest film, Awarapan.
Sitting in his cubicle at filmmaker Mahesh Bhatt's office, Mohit's perpetually on the phone.
"Just give me ten minutes and I will join you," Mohit apologetically tells me. At first glance, he looks like a boyish postgraduate student. Under his eyes, though, there are distinct dark circles -- fair enough considering he's made 3 hits, Woh Lamhe, Kalyug and Zeher.
It's a bit bizarre, being this young yet handling situations and subjects far beyond his years. Mohit smiles. "I started young in life. At 17, I joined my uncle Mahesh Bhatt and started assisting him. I didn't plan to become director. I assisted him to make some money. He saw some spark in me and finally gave a break to direct a film when I was 22, and I made Zeher."
Mohit lost his mother when he was 8, and his father Daksh Suri travelled frequently, leaving Mohit mostly to his aunts. His sister Smiley Suri (yes, the Kalyug heroine) stayed with cousin Emraan Hashmi. The family is very close, and Mohit considers Emraan one of his closest friends.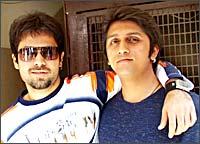 "I am loner by nature," Mohit reveals, "but friends are very important to me. I have few but some great friends and Emraan is one of them." Though Mohit has been with the Bhatt's from the age of 17, and started by assisting Vikram Bhatt with Kasoor, he doesn't consider himself a student of cinema. 
"My mother passed away early so I started taking my own decisions. I have no formal education in cinemam but life has taught me a lot. I was a good student and I have studied Business Management," Mohit says, "but I feel I was made for films."
So armed with this life experience, his first film is a rip-off of the Hollywood film Out Of Time? Mohit smiles. "The easiest way to convince any producer is to give the reference of a film. Moreover, no one would have given me a chance to direct a film at the age of 22. So Zeher came easily to me."
"The unique selling point of my film was the song Woh Lamhe," he says. "I knew my film had no big stars to attract audiences. Why would they spend money for my film? I needed something different, and therefore I chose that song. I knew my film will be a hit the day I incorporated that song."
Films coming from the Bhatt stable have always had great music and Mohit has made sure he's had outstanding tunes. If Zeher had Woh Lamhe, Kalyug was a rage because of Jiya Dhadak Jaye and now, Woh Lamhe's Kya Mujhe Pyaar Hai caused a sensation.
He doesn't consider his films too dark. "I am showing real life. I sit for the dialogues with the dialogue writers and scriptwriter and work hard, to make it as real as I can. I surely want to make happy films, but only when others start making serious films like I am."
A down to earth youth, he has no Bollywood airs yet, and considers Mahesh Bhatt his godfather. Right now, this boy is competing with himself, and just wants to keep making films.
As for the dark circles, that's because he's a workaholic, sleeping four hours a day. "I want to strive for more rather than rust away. There are so many stories and ideas that I want to make films on, and I hope to make all of them."
As a youth, he's remarkably tolerant of veteran filmmakers losing their way. "It happens to everyone," Mohit shrugs. "As time changes, everything around you changes. You start fading away from reality. This can happen to me too, but I see that I don't handle praise well. When one criticises me I take it well, but that criticism will never ruin my confidence. I am aware of my strengths and weaknesses."
Any particular film, he loved this year, Mohit immediately snaps back with "Rang De Basanti and Lage Raho Munna Bhai, but I loved RDB more. It appealed to my sensibilities. I felt that film was for me and my generation."
Photographs: Pradeep Bandekar