Home > Movies > Bollywood News

Bollywood's running out of dates

Syed Firdaus Ashraf | October 31, 2006 18:23 IST


| | |
| --- | --- |
| Shah Rukh Khan | |
| | |
| | |
| | |
| | |
| | |
| | |
Bollywood's running short of dates. 
Filmmakers are facing a severe crisis now as actors simply don't have enough dates to take on projects. With industry giants and established studios throwing their weight around to get star dates at will, the situation is exasperating for new entrants. Corporates and debutant directors have big funds and great scripts in hand, but there aren't any stars who have the time.
And this is not just a phenomenon restricted to Shah Rukh Khan and Aishwarya Rai. Even if you want to cast Ritesh Deshmukh in your next film, you'd better wait around till this time next year and get an early 2008 booking.
Aishwarya Rai recently admitted to me that she was forced to give up on some great projects. "I am going to be busy in 2007," Ash said, "and this is something that's happened many times in life: I've discussed films with producers and directors, but there are no dates available."
She adds, "If I have dates available, my co-stars too need to have dates and if that does not happen the film gets shelved." A case in point was Ash's Saamna, to be directed by Raj Kumar Santoshi and also starring Ajay Devgan and Nana Patekar. Santoshi concedes that the project fell through because of "date issues" with Aishwarya, and that he hoped to work with her in the future.
It just seems the wait is getting ever longer.
"If you plan a film today you will have to wait till 2008 or late 2007 because all top actors are booked," says Vinod Mirani, film trade analyst.
An unpredictable hurdle has also popped up with the industry suddenly becoming more professional, and actors trying to get into the skin of their characters.
For example, Abhishek Bachchan had to put on weight for Mani Ratnam's Guru, but had to look fit and lean for Aditya Chopra's Dhoom:2. Similarly, Saif Ali Khan shaved his head for Omkara. Challenging projects requiring more physical involvement from actors inevitably restrict them to going one film at a time.
Most actors today ask filmmakers to shoot in one schedule, from start to finish, so they can wrap up a project quickly before taking on another. It makes sense for the stars, but means a much more expensive and exhausting process for producers and directors.
And then there's the Aamir Khan factor. "The actors are preferring to have exclusivity. They want people to eagerly wait for their films," explains an aspiring director desperately seeking a star. "If this happens then the film gets a good opening." A fair argument, especially since we consider that a good opening is often enough to see a film sail through.
The corporates are going gung-ho with their budgets, and block-booking superstars for massive amounts of money. The latest news sees Hrithik Roshan signing on with Anil Ambani's Adlabs group for 3 films and Akshay Kumar for 4 films. This just ensures that these stars will be available to the production house over the next four years. It's rather like betting on a horse, as the corporate giants are picking winners and backing up their bets with high stakes.
Hrithik: Bollywood's highest paid?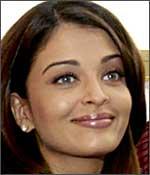 So does this mean actors will not do any new films?
Not really.
Most actors keep long vacation time in hand, wanting to relax and spend time with their family. But temptation can often force them to cut this short.
If seduced by a great script and director, they are willing, but ask only that the film be completed in a really short period. Aishwarya shot for Leena Bajaj's Shabd in 35 days, and SRK's Paheli was wrapped up in 45 days.
The home truth now remains that the star is key, and it's all upto him.
"You never know what goes on in an actors mind," says the secretary of a superstar booked till 2008. "They may do some film on instinct, or some film for the cause of friendship or a big banner, if it is to be made in short period. You just have to be lucky to convince them to get their dates."
Amen. Good luck, filmmakers.
Photographs: Getty Images