Home > Movies > Bollywood News

Hrithik: Bollywood's highest paid?

Syed Firdaus Ashraf in Mumbai | October 26, 2006 18:11 IST

How does it feel to have a dozen flops in a row? I asked Hrithik Roshan, a week before Krrish released in June.

"Krrish is my eleventh film. Where do the 'dozen flops' come from?" the star asked me.

Okay then, 9, I suggested. He lightened up. "I have never given nine flops in a row. I had three big hits: Kaho Na Pyaar Hai, Koi Mil Gaya and -- if you can count my contribution alongside big co-stars like Amitabh Bachchan and Shah Rukh Khan -- Kabhi Khushi Kabhie Gham." Mission Kashmir and Fiza, he explained, weren't flops.

Things have changed, massively.

Once almost written-off by show business, Hrithik now doesn't need to justify anything. His Krrish is a tremendous success. And it is said he is close to signing an unbelievable deal with the Anil Ambani-controlled Adlabs group -- Rs 35 crores (Rs 350 million) for three films, which would make him the highest paid actor in Bollywood.

That tag has so-far rested on Aamir Khan's shoulders, the rarely-appearing superstar said to be commanding Rs 7 crores (Rs 70 million) per film.

Hrithik's new deal would mean he will earn close to Rs 12 crore (Rs 120 million) a film, and enjoy all decision-making rights: he can space the films as he wants over the next three years, pick the scripts and the directors. It's a deal to kill for.

No one from Adlabs was willing to speak on the record, but sources confirmed that negotiations were on and that the deal will indeed be inked in a day or two.

Trade analyst Taran Adarsh thinks it is a sound strategy. "Adlabs know the business and the market. No one in the film industry does charity, and they aren't doing it either. They know the Bollywood theory, 'Hit hai toh fit hai' (all that matters is a hit)," Adarsh said. "I am not surprised if this deal is happening."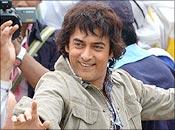 While huge, the move doesn't seem sproradic. Adlabs has entered the film industry in a big way, and its multiplexes are spreading across the country.
A few months ago Adlabs was said to be entering into a Rs 25 crore (Rs 250 million) deal with Akshay Kumar to make four films.
Aamir is the beneficiary of a Rs 20 crore (Rs 200 million) co-production deal with PVR Cinemas -- the actor is making two films for the joint venture, Zaamen Pe Taare directed by Amol Gupte, and a youthful comedy marking (Main Hoon Na, Maqbool) scriptwriter Abbas Tyrewala's directorial debut.
So how come the stakes have suddenly gotten so high? Apparently, over the last year, Bollywood has gotten much bigger. 2006 itself has seen four films make close to Rs 100 crore (Rs 1 billion) each -- Rang De Basanti, Fanaa, Krrish and Lage Raho Munna Bhai have upped the financial equations in a huge way.
Various corporate firms are keen to invest in production but are tentative about a project's feasibility. The money is there, but big projects need big stars, a 'saleable face' to bring in the audience.
And now it suddenly seems there are only seven real superstars in Bollywood -- Aamir, Shah Rukh Khan, Hrithik, Salman Khan, Akshay Kumar, Abhishek Bachchan and Saif Ali Khan -- and this shortage means they are obviously worth their weight in gold.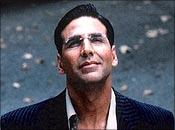 Trying to get these A-list stars for a project is nearly impossible, given their currently overbooked schedules. Perhaps this is why the 3-film and 4-film contracts are being drawn up, ensuring stars will be committed to corporate banners over the next few years.
The paycheck is still staggering. "Adlabs will have to choose the right kind of subject to justify this price -- for example, they will have to make a film like Krrish," explained trade analyst Vinod Mirani. "Today, Rs 12 crore per film may sound like a big amount, but next year that amount may sound less because of inflation. I feel the Adlabs group can afford this kind of risk, because they are going to distribute the films as well."
Then again, it is a fallout of our films getting more expensive. Most blockbusters today have budgets spilling well over the Rs 30 crore (Rs 300 million) mark, in which case it's obvious stars would get a bigger cut. "It is a known fact in the film industry that stars take 55% of the film's total budget," reveals Adarsh. "This was true in the time of Rajesh Khanna in the early 1970s, and then for Amitabh Bachchan's time in the later 1970s and 1980s, and so it holds good now."