Home > Movies > Bollywood News

Aamir Khan rips the media apart

rediff Entertainment Bureau | March 31, 2006 16:07 IST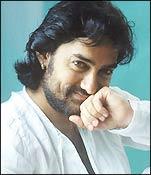 Aamir Khan is angry -- make that very angry -- with the Indian media. And he has minced no words in an extensive and candid interview with Tehelka.
'I've stopped reading and watching most papers and channels,' Aamir told the the weekly newspaper. 'I want to emphasise here that it's not personally what they wrote about me but in general I find that what news reporting has become in our country today is absurd -- I mean that's the only word I can use.'
India's highest paid actor has alleged -- citing specific instances -- that newspapers published false, ludicrous reports about him.
He named a television channel which aired a live telephone 'interview' with him while he had given no such interview.
He thinks most newspapers and television channels play up trivial, sensational news.
He thinks in the rush for eyeballs, ethics have fallen by the wayside.
He thinks titilation has become a keyword and national interest an alien phrase for a money hungry industry.
He says the media is 'meant to be a watchdog of society not a lap dog!'
He thinks 'media barons and top executives are just looking at short term benefits, but in the process they are destroying society.'
On the issue of terrorism too, the star was equally outspoken: 'What I'd like to say as a Muslim here is that any person claiming to be a Muslim who indulges in killing innocent people, in my opinion, is not a Muslim.'  But he criticised the media, who 'conveniently take it (the government version) on face value and say that phalana dhimka from phalana dhimka group has in fact done this (terrorist act).'
'The job of the authorities is to find out who's behind it and the job of the press I feel is to investigate whether the authorities are telling the truth,' he added.
About the controversy over Rang De Basanti, Aamir said , 'This is the first time I'm speaking about it and I want to put it on record that our experience of the defence minister, Chiefs of Staff and other officials was very positive. They were extremely mature in not intruding or curbing our creative freedom in any way. So all the media speculation about them was just absurd, completely unwarranted.'
You can read the full interview by clicking here

EXTERNAL LINKS: Please note, rediff.com is not responsible for the content of these external links nor does rediff.com or its staff endorse the content of such links. These are only being provided as a source of reference.