Home > Movies > Bollywood News

Aussies to get some bhangra rap!

Patcy N, Sumit Bhattacharya | March 23, 2006 18:15 IST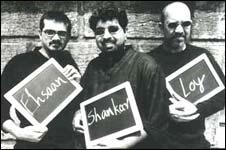 As part of the closing ceremony of the ongoing Commonwealth Games, India will showcase a 15-minute cultural programme, starring the likes of Saif Ali Khan, Aishwarya Rai, Rani Mukerji, Lara Dutta and Priyanka Chopra. It is Commonwealth tradition that the hosts of the next Games put up a cultural show at the closing ceremony.

Two of the songs to be played, to which the stars will strut their stuff, have been written by Javed Akhtar and Gulzar.

Bollywood heads for Melbourne!
| | |
| --- | --- |
| | More on rediff.com! |
| | |
The white-hot music director trio of Shankar-Ehsaan-Loy and in-demand Vishal-Shekhar have set the words to music. "The main vocal line is Delhi Chale," reveals Ehsaan. "It is basically preparing for the Commonwealth Games in India in 2010."

"It is always an honour to be part of anything that represents your country. So we were excited, and also because we had a chance to work with Javed Akhtar," says Vishal Dadlani.

Both songs will reflect the reality of India – steeped in tradition, rocking to the modern.

"It's an Indian tune, but there are lyrics in English. There is a bit of rap at the end too, so it appeals to both sides," says Ehsaan about the song that will feature Shreya Ghoshal, Shaimak Davar and Sonu Nigam. "It is also about the international sports events that will happen in India. It had to be a motivating and sporty song," he adds.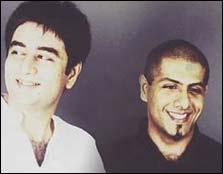 "The people involved with the Commonwealth Games liked our work, which is why we were invited to do the music," says the guitar player who, along with Shankar and Loy, has earlier composed tunes for the Afro Asian Games and National Games.
"It's a combination of bhangra with a little touch of hip hop. We were specifically told that they wanted an up-tempo song. They wanted a bhangra song about Delhi. And about how warm, inviting and hospitable the people of Delhi are. The song also had to have English as well as Hindi lyrics so it would appeal to everyone," says Vishal about the track that features Shukwinder Singh, Gayatri and himself.
"We were actually just told (about the song) a couple of days before they required it. I suppose the people who plan the event, who control the game, people from the sports ministry -- they are the ones who take a call on this (who will compose the tunes)," he adds.
Both songs were recorded over two days each. "We had lot of fun recording this, as the brief was so cool. Sukhwinder went completely berserk about the track -- he loves it," says Vishal. Ehsaan adds: "As usual, we recorded everything ourselves and did not hire any other musicians."
And both agree the songs are an invitation to the world, with love from India.