Home > Movies > Bollywood News

Hollywood rules desi metros

Syed Firdaus Ashraf | March 13, 2006 20:20 IST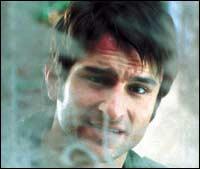 Hollywood films are trying to cash in where Bollywood fears to tread.
Look at the releases in the last two weeks and you will see that, on an average, three Hollywood films are releasing every week.
And, many of them are doing well at the box office.
As recently as 10 years ago, Hollywood films were not taken seriously at the Indian box office. Titanic turned the tide to become one of the biggest hits in the 1990s.
In contrast, Bollywood fears the ides of March, so to speak, and producers have always given the exam and cricket season a wide berth.
| | |
| --- | --- |
| | More on rediff.com ! |
| | |
"Theatres are available for Hollywood films and therefore they are reasoning why not release the film now rather than wait and release during the holiday periods with Hindi films?" says film trade analyst Taran Adarsh.

The only big Bollywood film in March was Malamaal Weekly, which had a decent opening because there was no competition. Moreover, having the magic pair of Paresh Rawal and director Priyadarshan worked in the favour of the film.

The other release of the month is the offbeat Being Cyrus.

Most of the Hollywood films now in theatres are Oscar winners: Brokeback Mountain, Syriana, Walk The Line, Crash and Memoirs Of A Geisha.

"A film like Brokeback Mountain -- a very unusual film for Indian audiences -- had a decent opening in theatres," says Adarsh.

The Ang Lee film revolves around the love affair between two cowboys.

"With no (Hindi) films releasing, theatre owners too are heaving a sigh a relief -- because these Hollywood films are running their theatres in the month of March," agrees Vinod Mirani, editor of the film trade magazine Box Office.

But fear not, Bollywood buffs, because come April, we will again see a number of Hindi movies hitting the market.

First up is Humko Deewana Kar Gaye, starring Akshay Kumar. Then there is Shaadi Se Pehle, starring Mallika Sherawat.

Salman Khan has a special appearance in the upcoming Saawan.

Pyare Mohan, starring Vivek Oberoi, and Gangster, featuring Shiney Ahuja as underworld don Abu Salem, are due next.

This year has been a slow starter for Bollywood. Most of the films released in the first two months have flopped. Except of course Rang De Basanti, which did outstanding business at the box office.

Even the Amitabh Bachchan-Akshay Kumar starrer, Family, flopped. The only other film that performed well was Aksar, starring Emraan Hashmi. Good songs and the right publicity did the trick for Bollywood's 'serial kisser.'