Home > Movies > Bollywood News

What do you think of Krrish?
SMS Your reviews and you could win prizes

June 26, 2006 17:56 IST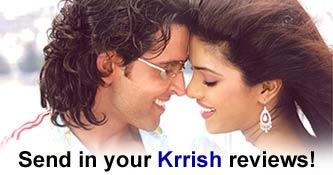 You've read the Rediff reviews of Krrish; now, here's your chance to speak your mind about Hrithik Roshan's new film.
Krrish: Raja Sen's review | Sukanya Verma's review
SMS MYREV followed by your review and name and send it to 7333.
For example:
'MYREV Must see for kids and Hrithik fans. The stunts are mind-blowing. Amit B'
Prizes for the best seven reviews include a Panasonic VCD player, a Nike bag and five silver coins.
50 SMS reviews will also be published on rediff.com
Don't forget to send your SMS reviews by 5 pm IST, June 29, 2006.
Also Read:
Showcasing Krrish
Download Krrish Wallpapers and Ringtones