Home > Movies > Bollywood News

Why desis love Akshay Kumar

Arthur J Pais in New York | June 21, 2006 19:27 IST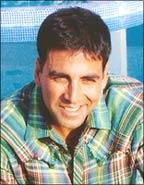 Why do fans abroad love him so much, a reporter asked Akshay Kumar when he was in New York a few months ago. Akki, as he usually does when faced with questions like that, simply smiled. His response was the usual one -- that he was surprised too, but not complaining.
On other occasions, he might say he wishes audiences in India could be as consistently embracing as fans overseas.
Though he is yet to have as big a success in America or England as Shah Rukh Khan's Paheli or Aamir Khan's recent Fanaa, he seems to be the liked one. Put him in any role, and his fans will welcome it with an enthusiasm that is the envy of most Bollywood stars.
It isn't as if he is not a big success in India. His current Phir Hera Pheri has comfortably beaten the Priyadarshan-directed Chup Chup Ke. Both films were released on June 9, with original Hera Pheri director Priyan dubbing Phir Hera Pheri, directed by screenwriter Neeraj Vora, a clone. PHP is doing well in America and Europe as well.
But, unlike in India, where many of Akki's films including Humko Deewana Kar Gayee have flopped, he seems to have a safe haven in America and the UK. Humko... grossed about $1 million in the UK and North America.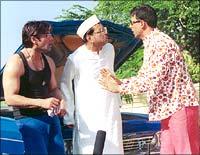 Some exhibitors think Akshay is infallible abroad. As one distributor, whose own film lost heavily to an Akshay film recently, said, 'You can publish a phone directory with just his name and it would be a bestseller.' Maybe it would at least in the UK, where Dosti: Friends Forever featuring Akshay (with Bobby Deol and Kareena) grossed a mighty $1.5 million six months ago, outbeating its decent American gross by nearly $1 million.
But, more than anyone else, John Abraham could easily claim to be the star of the highest grossing Hindi language film released in the last few years. Last week, Water, still on the top 25 chart, reached the $4 million mark, having overtaken the milestone: Kabhi Khushi Kabhie Gham's $3 . And the Deepa Mehta film still has a lot of life left.
John and Akki together had a formidable hit Garam Masala a few months ago. John says he had so much fun with Akki and director Priyan that he won't mind working on a sequel. Now, that might mean some truly big bucks.