Home > Movies > Bollywood News

June 07, 2006 17:28 IST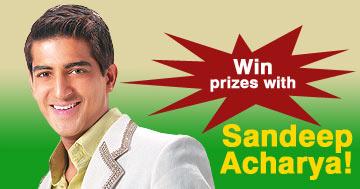 The newest Indian Idol Sandeep Acharya recently launched his debut album. Now, if you're one of his ardent fans, you're in luck. You can win CDs of the new album!
All you have to do is grab your cell phone and SMS SAND to 7333.
Answer the question sent to you. If you are correct, you could be among 20 lucky winners! But remember, the correct answers are selected randomly, so, if you want to increase your chances of winning, simply send in more correct replies.
Contest closes 4pm, on June 14.
Don't Miss:
Sandeep Acharya's music video
'Leave Indian Idol out of reservation'