Home > Movies > Bollywood News

Lost and found: Lucky Ali

Syed Firdaus Ashraf | June 05, 2006 12:30 IST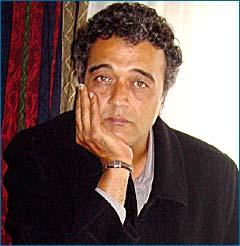 Where is Lucky Ali?

Few people know the answer to that question. And it wasn't easy for us to locate him either. After repeated attempts to reach him, we found that the singer has settled down at his farmhouse near Bangalore.

Does this mean he is saying goodbye to music and acting forever? "No way," he told rediff.com over the phone. "I just wanted dry climate, which is why I came to Bangalore. I am still doing my music and working on something at the moment."

The singer, who stormed the music world with his album O Sanam, made it big in the late 1990s but then shifted his attention to playback singing. Ek pal ka jeena and Kya kehti hai pawan from Kaho Naa... Pyaar Hai were both huge hits. Lucky then turned his attention to acting, and gave us Kaante. He followed this with two unsuccessful films -- Sur, then Kasak with Pakistani actress Meera, before disappearing from Mumbai.
| | |
| --- | --- |
| | More on rediff.com! |
| | |
Is he worried about missing all the action? "There is no good work coming my way at the moment," says Lucky, "so I decided to take a break. Moreover, I feel there is nothing to accomplish in Mumbai at present. It has become too crowded. There is too much traffic and humidity. I think I was never meant for the city."

Why not move to hill stations near Mumbai like Khandala and Lonavala? "No way," he says. "They too have become as crowded as Mumbai. There has been too much development there. I grew up in Mussorie, where there was so much open space and greenery. I feel I am a hill station and farm person, which is possibly why I came back here."

Lucky has, lately, been taking field trips across India, visiting small towns and villages to meet farmers from different parts of the country. He says the experience has moved him and shown him a very different side of India. "There is so much poverty in some parts of our country that it is beyond my imagination. We, in cities, are busy living in congested areas without knowing what is happening in our villages," he says.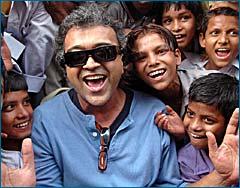 We last saw a picture of Lucky when he was participating in a protest against the World Trade Organisation to protect the interests of farmers. When asked about his role there, he says, "I am also a farmer. I know genetic foods are spoiling our land and crops. There are multinational companies experimenting with chemicals to give us better crops, but the fact is they are ruining our farms, which is why I am opposing that move." He says he wants to continue farming the way he has been for years. "We, in India, have been farming for thousands of years. We don't want the WTO or multinational companies to teach us how to."
Does that mean his celebrity status is making things different for anti-WTO campaigners? "I don't know about that and don't even care. I am concerned about the plight of farmers in India because they are not being treated well by the WTO."
And yes, he immediately denies that he is joining a political party. "I just felt I had to be a part of the anti-WTO movement, which is why I expressed my displeasure. I am not interested in politics. I have a lot to learn now and I am making an honest effort," says Lucky.
Finally, does he plan to come back to Mumbai in the near future? "I am not an actor by profession," he says, "therefore, I could never connect with people in the film industry. But I am happy to be doing what I am doing right now."