Home > Movies > Bollywood News

Bhandarkar takes it to the streets

Priyanka Jain | July 31, 2006 14:54 IST



Madhur Bhandarkar sums up his life quite well. "From selling video cassettes for five years to being an assistant to Ram Gopal Varma for another five, to making a flop film like Tri Shakti and winning National Awards for two consecutive films, Chandni Bar and Page 3, my life has had its ups and downs." Evidently, the director also has a flair for understatement.

A Rs 150 crore joint venture has just been announced between Madhur Bhandarkar and Percept Picture Company to co-produce content, including feature films, television serials and more. At a function held in Mumbai on Saturday, Bhandarkar was accompanied by his wife and mother. His industry supporters like Hariharan, Ashok Pandit, Mithun Chakraborty, Sudhir Mishra and Bipasha Basu were also present.

"After Tri Shakti, I was almost dead and buried in the industry. They say you don't get a second innings here. But R Mohan and Amit Mohan from Shogun Films and Tabu stood by me and made Chandni Bar possible. They supported my vision and allowed me to make the kind of cinema I wanted to make. With Page 3 began my alliance with (Joint MD Percept Pictures) Shailender Singh and his company, who publicised the movie immensely," said Madhur.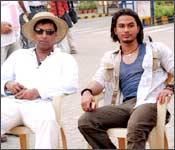 He isn't shaken by the poor critical reception to Corporate. "Critics have always given my films mixed reviews. When people say I am not a commercial filmmaker, I agree. I tell them I am an experimental filmmaker whose films do well commercially. Ultimately, my producers, exhibitors and I are happy to have made money. Corporate did well at the box office and that's what counts. That gives my team and me the encouragement to make more movies." 
Next comes Traffic Signal, starring Kunal Khemu and Neetu Chandra. It is about the streets of Mumbai and 'what happens during the time the signal turns from red to green.' From beggars to eunuchs, prostitutes to gajra-sellers, the film features them all.
"It has very dark humour. I am trying this for the first time. It's a slice of life," says Bhandarkar.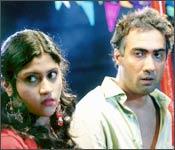 The film has a female protagonist, Neetu Chandra, who sells pieces of embroidery on the streets of Mumbai. Khemu plays a goon who collects money from the beggars. Madhur's Page 3 leading lady Konkana Sensharma has a special appearance. Her boyfriend Ranvir Sheorey also features among the 60 odd characters, including 8-10 real life eunuchs and urchins.
When asked why his movies are all based in Mumbai, the director said, "I want to make all kinds of cinema. I will not restrict myself to making movies from Churchgate to Virar. If I get a good subject, I will definitely make something on other themes. I am a typical Mumbaikar and draw inspiration from the people I interact with daily. I walk to (Mumbai's famed) Siddhivinayak Temple regularly. I interact with many people from different walks of life, and that is how I get ideas. For this movie, the idea was present for a long time. It comes from years of waiting patiently at traffic signals and observing life in those few seconds."