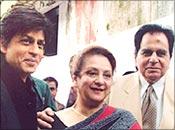 "This has been my dream for 10 years," says Ghai. "Whistling Woods is my way of repaying the film industry for what I have received from it over the last 27 years. This institute will be the stepping stone for anyone who wants to make a career in the world of television, cinema or animation."

You can't but ask if there is a story behind the name of the institute.
"Long time ago, I had read a story of evolution, inspiration and creation," Ghai replies. "It involved a man walking down the woods. He was enthralled by the chirping of the birds and the music that was being created as a result. He got inspired and wanted to play the same tune on his flute. After whistling and trying for a number of times, he succeeded. He was able to create and replay the music of the birds through his flute," explains Ghai.
"The story inspired me a lot and I thought of taking a leaf out of this while naming my institute that will encourage creativity. That's why I decided to call it Whistling Woods."
"When I first came to look for work in the industry, I wanted to become an actor," Ghai continues. "I tried to enrol in some course, but could not find any suitable institute. As a result, I became a director. I had to learn the tricks of the trade by trial and error. Only after committing mistakes did I come to know what the right way was. I don't want today's youth to commit the same mistakes and want to offer them a painless way of learning the right methods of filmmaking."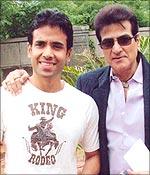 Kurt Inderbutzin, a producer-director from
Los Angeles who is the dean of the institute,
says, "All of us have a vision, but very few amongst us have got what it takes to transform the vision into reality. Subhash Ghai is one of those who know how to convert the vision into reality."

The faculty list reads like a Who's Who of the Indian film industry.
Shyam Benegal is chairman, Academic Council; Arunaraje Patil is vice president, Academic Affairs; Naseeruddin Shah is head of the department, Acting; Anjum Rajabali is head of the department, Screenwriting; Rakesh Ranjan is head of the department, Sound Design; Rajen Kothari heads Cinematography; Umesh Gupta heads Editing and Ashish Kulkarni heads Animation.
At the inaugural event, Dilip Kumar and Shah Rukh Khan lit a lamp, and the evening ended with a performance by flute maestro Pandit Hariprasad Chaurasia.
Photographs: Pradeep Bandekar