Home > Movies > Bollywood News

Bollywood salutes Mumbaikars

July 13, 2006 18:19 IST



The Hindi film industry has spoken out against the dastardly terrorist attacks on Mumbai. And like most of the world, Bollywood too says Mumbai should take a bow for the unity it has shown.  

 

"What has happened is really sad and tragic. The people behind this are just showing how cowardly they are," said Aamir Khan. "The authorities should take the strictest action against them. We should bounce back, but I don't think that we should forget the tragedy."

 

Film director Madhur Bhandarkar told television channels that 'We have to fight! We have to give an answer to all the people who are trying  to do such acts over here. In the 1993 blasts also we faced a similar thing and the next day all the people came to the offices, and in the same way today also, Mumbaikars have shown the spirit. That we can fight.'

 

Director Kunal Kohli said, "I think every Mumbaikar should go out for office, school and college. We shouldn't sit at home."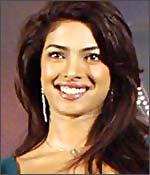 Actress Priyanka Chopra said, "I don't think any other city in the world would show the kind of togetherness that Mumbai shows when tragedy strikes them.
"There are people who are scared, there are people who are worried what is going to happen next. At the same time, they come out and they help out. When the tragedy struck, it was the common people, more than government officials or the cops, that looked after and took the bodies and the people to the hospital," she added.
Lyricist Javed Akhtar said he just could not understand what convinced certain people to carry out these acts of mayhem, while actor-director Anupam Kher said there was a need to stand up to injustice of any sort.
Actor Boman Irani said it was time "the world woke up and noticed this fabulous city and the fabulous people. I am  proud to be a Mumbaikar."
ANI