Home > Movies > Bollywood News

How to meet Brad Pitt, Angelina Jolie

July 07, 2006 16:56 IST



When Benita Singh got a call from Newsweek magazine that she and her partner Ruth Degolia were to fly to Los Angeles for a photo shoot with Brad Pitt, she thought it was a joke. 

"I sent them an email saying *LOL* and a smiley face," Singh said.

Last week, the 23-year-old Long Island-born Yale University graduate and Degolia were honoured by Newsweek for its first Giving Back Awards -- in recognition of people who 'devote themselves to helping others.' 

Singh and Degolia, who is 24, were singled out in the under-25 category for starting the non-profit organisation Mercado Global, which organised 18 cooperatives in remote rural areas of Guatemala.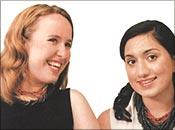 The two sell the products from the cooperatives -- shawls, bags, jewellery and such -- to stores in the US and through e-commerce. The money earned is rolled back to the communities to build schools and educate young girls.   
Pitt was honoured for bringing to the world's attention the plight of the people in Africa. Other honourees included CNN's Soledad O'Brien for her coverage of Hurricane Katrina and its effects on the city of New Orleans. 
"It was really great meeting Brad Pitt," Singh said.  "He was really nice." 
The actor rode on a motorcycle for the shot, and first posed for the pictures. He later shook hands with other honourees and also spoke to each of them. 
"We had prepared a press kit for him and gave him a bunch of our jewellery pieces for Angelina (Jolie)," Singh said, adding that she also presented O'Brien with some jewellery pieces. 
The icing on the cake came last week, when Singh got a call from Jolie's publicist asking for more information about the organisation. "She (Jolie) wants more information so she can support our work," Singh said.